Minister Ampuero confirms delivery of protest note to Ambassador of Venezuela in Chile: "The Government of Chile rejects slanderous accusations"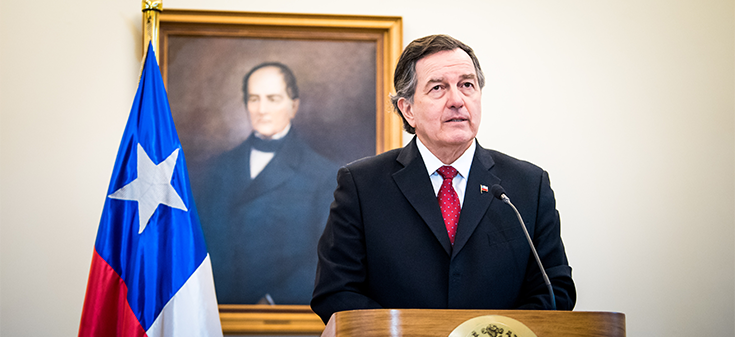 Monday, September 24, 2018
The Minister of Foreign Affairs, Roberto Ampuero, confirmed today that the Secretary General of Foreign Policy of the Ministry of Foreign Affairs, Ambassador Patricio Torres, delivered a note of protest to the Ambassador of Venezuela in Chile, Arévalo Méndez. The document "expresses in the most energetic way the Chilean government's rejection of the very serious and slanderous insinuations and threats made by the government of Nicolás Maduro," said the Foreign Minister.
The Secretary of State affirmed that Chile considers "the threats made by the Venezuelan government to disregard the diplomatic immunity of our Embassy in Caracas to be of the highest gravity". In this regard, he indicated that "this is particularly serious because it means putting at risk the integrity and security of the Chilean diplomatic representatives and also of the Venezuelan guests who are there".
"We want to be very clear and reiterate it. The Government of Chile rejects the slanderous accusations of the Government of Venezuela, which have no credibility to attempt successful maneuvers that seek to distract attention from the very serious humanitarian crisis faced by that country," added Minister Ampuero.
In addition, he pointed out that "the Government of Chile has had a very clear policy, crystal clear, with respect to Venezuela and has stressed that it believes that the solution for Venezuela lies in dialogue, negotiation, alternatives that are entirely peaceful for conversation among Venezuelans and that have the support of the international community and that have no link with violence whatsoever".
Asked about the situation of the two Chileans detained in Malaysia, Minister Ampuero said that "the Foreign Ministry will continue to maintain and deliver its consular assistance to the two young people and will also be there, helping and coordinating with both Chilean families," adding that "the Foreign Ministry has not left and will not leave these young Chileans alone".
Regarding the Bolivian lawsuit in The Hague, he confirmed that "starting tomorrow, the President of the Republic, Sebastián Piñera, will have meetings with high authorities of the country, with politicians from different parties, with the highest representatives of the Senate and the Chamber of Deputies, in general, with all sectors, because Chile's foreign policy is a state policy".