Chancellor Ampuero inaugurates talks on 15 years of cooperation in protected areas between Chile and the United States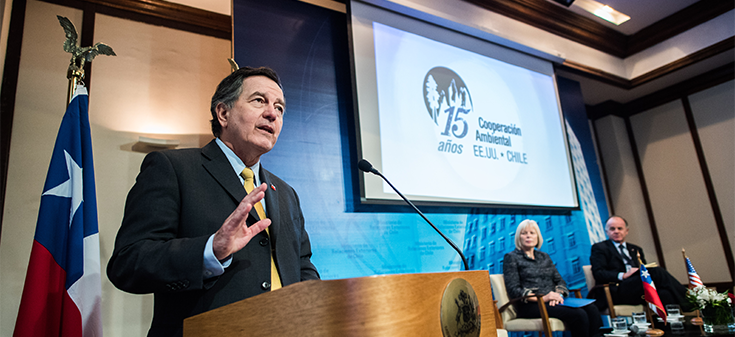 Wednesday, September 5, 2018
The Minister of Foreign Affairs, Roberto Ampuero, participated today in the inauguration of the talks on the 15 years of Cooperation in Protected Areas between Chile and the United States, which took place within the framework of the commemoration of the fifteen years of validity of the Environmental Cooperation Agreement between the two countries.
The Minister of Agriculture, Antonio Walker, and the U.S. Ambassador to Chile, Carol Pérez, participated in the ceremony along with the Chancellor.
During his speech, the Minister highlighted the relevance of the agreement that exists between the two countries: "Environmental cooperation with the U.S. is very important for Chile, and we want it to continue to be important. This is not only mandated by our Bilateral Free Trade Agreement, with the inclusion of the environmental chapter that has become a model for many other bilateral agreements that Chile has subsequently signed, but also because I am convinced that this collaboration has been mutually beneficial for both parties," he said.
The Chancellor also highlighted the good relations between both countries, a situation that has benefited and facilitated the development of this environmental collaboration agenda: "This agenda began with initiatives in 2005 and has never ceased, registering 114 activities to date, and the Environment Directors of both Ministries signed a new work program this morning, with themes and areas already identified, for the 2018-2019 biennium".
At the end of his speech, the Secretary of State highlighted the improvement and accessibility plan in national parks and reserves announced by President Sebastián Piñera after assuming his government, as well as the decision to redesign the bill that creates the Biodiversity and Protected Areas Service and the implementation of the National Plan for the Protection of Wetlands 2018-2022, whose objective is to halt the deterioration of these areas and preserve biodiversity.
In addition, the Minister added: "the creation of marine protected areas has also had an important impulse during the last years, under the first administration of President Piñera and the past administration of President Michelle Bachelet, all of which today represent 43% of the Exclusive Economic Zone of our country, one of the largest in the world, and the real challenge is now to administer and also control them effectively".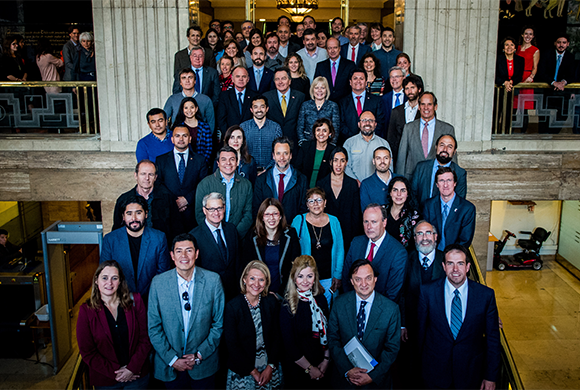 Artículos relacionados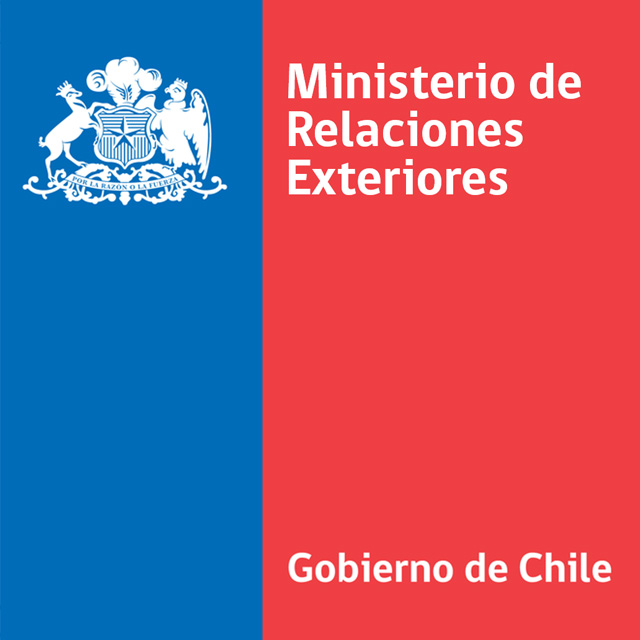 Viernes, 1 de julio de 2022
Chile asumirá Presidencia Protémpore del Proceso de Quito en 2023
Viernes, 1 de julio de 2022
Subsecretaria Ximena Fuentes preside II reunión de consultas políticas con Noruega
Viernes, 1 de julio de 2022
Canciller Antonia Urrejola sostiene encuentro con empresarios en España