Chancellor Ampuero heads AGCID 2018 Scholarship Holders Meeting
Friday, December 14, 2018
In the O'Higgins Hall of the Ministry of Foreign Affairs, the Minister of Foreign Affairs, Roberto Ampuero, headed the Annual Meeting of AGCID 2018 Scholarship Recipients, which brought together 160 students and professionals from various countries in Latin America, the Caribbean and Africa, who are studying at different universities in the country, through the various scholarship programs managed by AGCID.
The ceremony was also attended by the Executive Director of the Chilean Agency for International Development Cooperation, Ambassador Juan Pablo Lira, as well as ambassadors and representatives of the diplomatic corps accredited in Chile, university rectors and representatives of the academic community and Directors of the Ministry of Foreign Affairs of Chile.
"One of the fundamental aspects on which a country's development potential is based is the education of its population. This is very closely linked to the availability of resources or the capacity required to generate them, at the technical, economic or cultural level," said the Minister during his speech.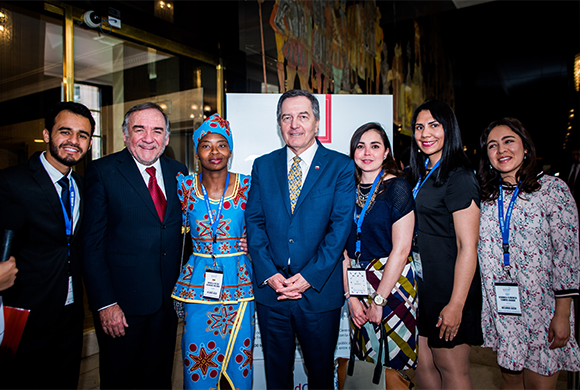 In this sense, he added that "in the context of Chile's International Cooperation Policy, the formation of human capital is a fundamental pillar for the institutional strengthening of the countries, in a scenario of democracy and inclusive and sustainable development, principles that confirm and promote the commitment of the Government of Chile to share knowledge and good practices in public policies in the multilateral framework that we value and appreciate so much".
Osmany Sabalza, Colombian, is a teaching psychologist and was awarded the República de Chile Scholarship, which allowed her to complete a Master's Degree in Social Ethics and Human Development at the Alberto Hurtado University, since last year. "I only have words of gratitude to the Government of Chile and the AGCID for the great opportunity they have given not only to me, but also to many professionals from different parts of the world. Being here not only helps us to train as professionals, but also to grow as people," he said.
Each year, the AGCID awards recognition to scholars who have achieved the best academic performance in their respective countries. One of the winners was Álvaro Solís, of the Cross-Border Integration Scholarship Program, from Bolivia, who is studying Industrial Civil Engineering at the University of Tarapacá. "I want to thank Agcid, the government and all the people who have been responsible for being able to give this opportunity to fellow countrymen from my country and youth from Peru, because I feel that these types of programs help strengthen relationships, we can meet people and broaden our minds," he said.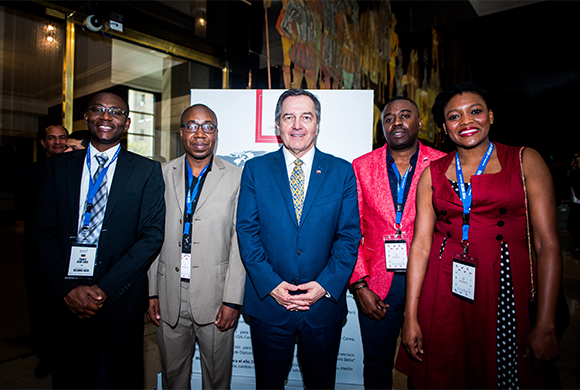 "This Encounter is the reflection of the commitment that our country acquired in 1993, through our Agency, to have a Scholarship program for education in Latin America and the Caribbean, and that since 2014 incorporates Africa. International cooperation is essential to contribute to the training of professionals and technicians, both Chilean and foreign, promoting the integration and development of our countries," said AGCID Director, Ambassador Juan Pablo Lira.
Since 2010 to date, Chile has awarded 82 Cross-Border Integration scholarships, of which 42 have been earmarked for Bolivia and 40 for young people from Peru. Also, starting in 2018, this program is implemented with the Universidad de Magallanes for Argentine students from Patagonia, which to date has benefited 3 young people.
Between 2010 and 2018 alone, AGCID has awarded 3,220 scholarships to countries in Latin America, the Caribbean, Africa and Asia, through its various programs: master's degree, undergraduate, international courses, diplomacy programs, Kizuna platform (natural disasters), graduates, among others. Caricom has been the geographic area with the highest number of beneficiaries: 379 scholarship recipients, followed by the member countries of the Pacific Alliance, Peru with 353 scholarships, Mexico with 345 and Colombia with 338, considering all scholarship programs and the Platform for Student and Academic Mobility.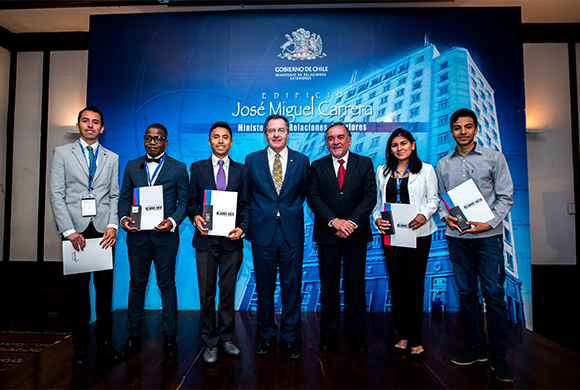 "The training programme represents slightly more than 50% of the total budget of Chilean Cooperation. This illustrates the importance we attach to education in its various forms and expressions and demonstrates our desire and conviction to be closely linked to the world and to be in contact with people," said the Minister. "When those who receive what we can share grow, we also grow," he concluded.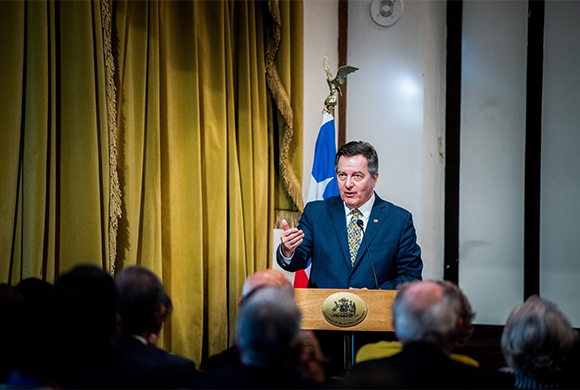 AGCID Scholarship Program:
The AGCID Scholarship Program was born in 1993, with the purpose of contributing to the formation of advanced and specialized human capital, professionals who, upon returning to their countries, contribute to national development. The scholarship programs are as follows:
Master's degree:

Republic of Chile (for professionals from Latin America and the Caribbean)
José Martí (for Cuban professionals)
Reciprocity Chile Mexico
Nelson Mandela (professionals from South Africa, Mozambique and Angola)

Undergraduate:

Pacific Alliance Student and Academic Mobility Platform
Manuela Sáenz (Ecuador and Paraguay)
Cross-border Integration Scholarships (Peru and Bolivia at the University of Tarapacá; and Argentina at the University of Magallanes)

Graduates

International courses for third countries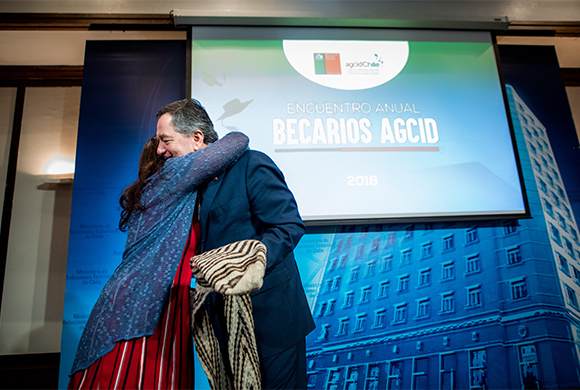 Artículos relacionados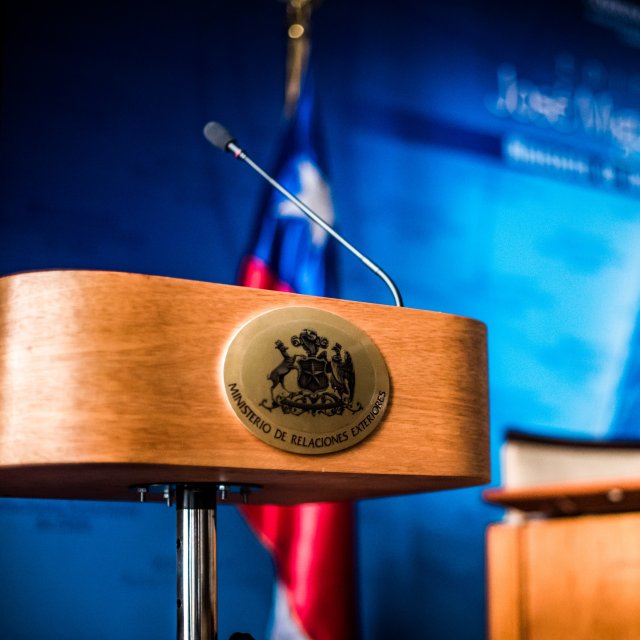 Miércoles, 26 de Mayo de 2021
Gobierno de Chile celebra acuerdo de alto el fuego alcanzado por Palestina e Israel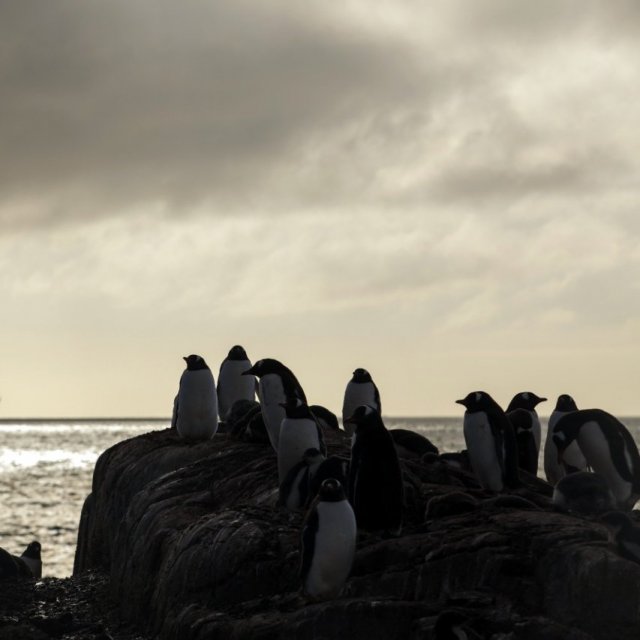 Martes, 25 de mayo de 2021.
Senado aprueba protocolo de Tratado Antártico sobre protección del medio ambiente