Minister Ampuero tours Antofagasta Historic Pier with President Piñera in closing visit to the north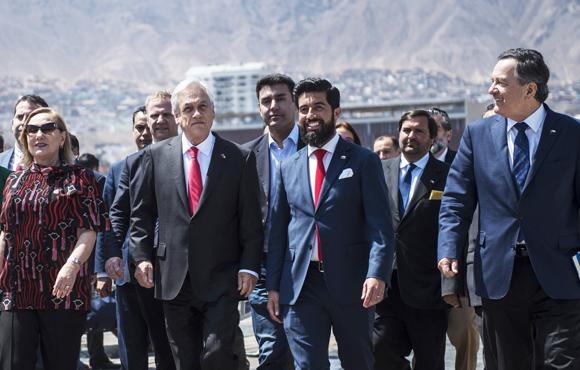 The Minister of Foreign Affairs, Roberto Ampuero, accompanied today the President of the Republic, Sebastián Piñera, on a tour of the Historic Pier of Antofagasta.
There, on the eve of the ruling on the Bolivian lawsuit filed at the International Court of Justice in The Hague, the President assured that "Antofagasta has been, is and will continue to be Chilean". In addition, he pointed out that "we are going to keep the dialogue open, but of course complying with and demanding compliance with the treaties that set our limits clearly and categorically with Bolivia".
In turn, after the tour, Chancellor Ampuero said that "the government of President Sebastian Piñera has a total commitment to our north, its development, prosperity and border security. We will continue to fulfill and enforce these commitments".
In Antofagasta, in addition, the Secretary of State participated of a Regional Cabinet, which was headed by the Head of State and that also counted on the presence of the First Lady, Cecilia Morel; of the ministers of the Interior and Public Security, Andrés Chadwick; of Defense, Alberto Espina; and of the Intendant of Antofagasta, Marco Antonio Díaz.
Previously, Chancellor Ampuero visited Arica with President Piñera, where they witnessed a joint exercise against transnational organized crime in the Northern Macro Zone, which was carried out by the future National Task Force against Transnational Organized Crime, a specialized team made up of members of the Navy, PDI and Carabineros.
"We want our borders to be open to everything that is good for Chile, trade, tourism, cultural exchange, but we also want our borders to be protected from everything that is bad for our country," said the President, who was also accompanied by the First Lady, the Ministers of the Interior and Defense, and the Mayor of Arica, María Loreto Letelier.