Visiting a video game company
Minister Ampuero highlights digital ventures with regard to APEC 2019
Chile is preparing to host APEC 2019 and one of the country's priorities is to strengthen the digital economy. Foreign Minister Roberto Ampuero highlighted this goal by visiting the offices of Octeto Studios, a group of young Chilean entrepreneurs who have triumphed abroad in the video game business.
"Of course we want to continue exporting copper, fruit, wines, we want to continue being a great exporter of other raw materials as well. But what interests us a lot at this stage of the country's development is to export other types of products and services with added value and these young people, as they are all very young people who work here, they prove it, they demonstrate that it is possible," said the Chancellor.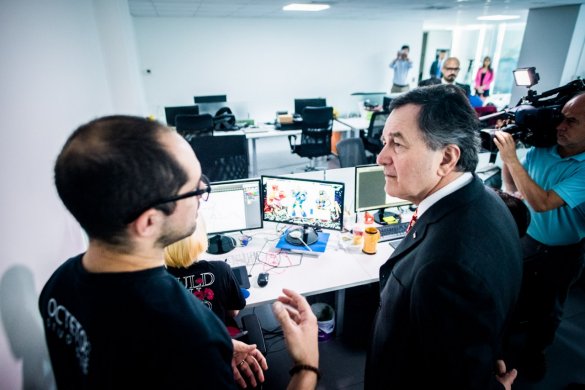 The CEO of the video game company, Julio César Marambio, accompanied the Secretary of State on a tour of the facilities located in the heart of Santiago, from where Octeto has exported video games to the United States, Holland, Germany and, one of its main destinations, Asia Pacific with a strong presence in Japan.
Minister Ampuero highlighted the role played by the Ministry of Foreign Affairs, through PROCHILE, in the internationalization of this type of companies, accompanying them to the most important video game fairs in the world, such as the Game Developers Conference in San Francisco.
On videogames as a business opportunity, the Minister pointed out that "by 2020 it is expected that there will be a market of more than 200 million dollars, all of this generates, of course, a lot of competition and that is where the talent, capacity and training of our Chilean experts are called upon to play a role".
For the 2019 Asia-Pacific Economic Cooperation Forum, Chile set as priorities the digital economy, integration 4.0, full inclusion of women, small, medium and microenterprises and also of indigenous peoples.