With the Official Visit to Saint Lucia ends the Centre American and Caribbean tour of President Bachelet and Foreign Minister Muñoz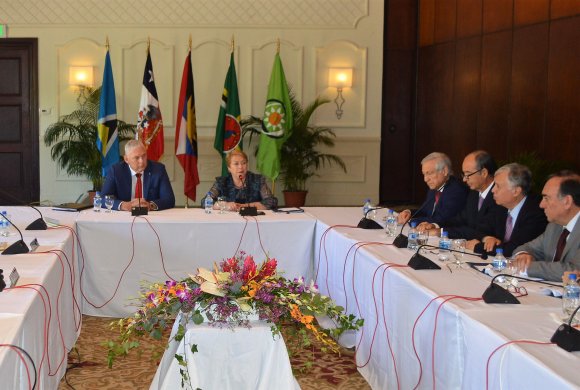 The Official Visit to the island of Saint Lucia was the last phase of the tour that the President of the Republic, Michelle Bachelet, carried out in Centre American and the Caribbean, alongside Foreign Minister Heraldo Muñoz.
The activities began on Thursday afternoon with the greeting to the General Governor, Pearlette Louisy, after the arrival of the delegation to the island. Today's schedule took off with a bilateral encounter with the Prime Minister of Saint Lucia, Allen M. Chastanet, and continued with an extended meeting with the delegation.
This is the first time a Chilean Head of State visits the Caribbean island and it ratifies the high level of the bonds that have formed between both countries, who established their diplomatic relations in the political, economic, cultural and cooperation for development field in 1990. It is worth pointing out that the current Foreign Minister Heraldo Muñoz is the one that established the diplomatic relations with Saint Lucia, when he was the Chilean Ambassador for OAS, thus being the first Chilean representative in this country (concurrent from Washington).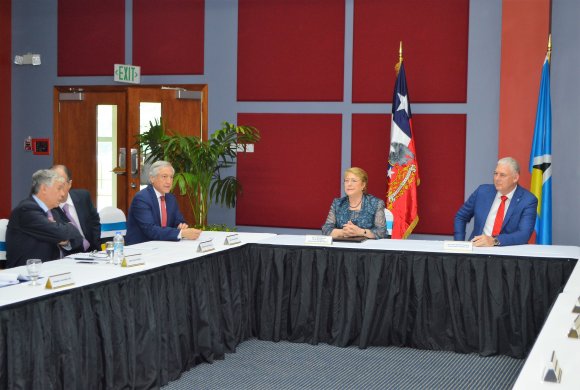 During today's visit, the Secretary of State accompanied the Head of State in the meeting she held with the Government leaders of the Organization of Eastern Caribbean States (OECS), on which the Prime Ministers of Antigua and Barbuda, Dominica, Grenada, St. Kitts and Nevis and Saint Lucia took part.
The OECS came into effect on June 18, 1981. It has the objective of promoting the cooperation amongst its Member States, so that they can reach sustainable development and they can become a part of the global economy. It is also in charge of boosting the cooperation amongst its member states in a regional and global level. The organization contributes to the States so that they maintain their common stances in the international issues, thus achieving beneficial actions and agreements for everyone.
Minister Muñoz emphasised the Latin American and Caribbean Tour, assuring that one of it main objectives was to "further the coincidences" with said region. Also, he added that there is "great appreciation for our point of view and a growing coincidence in issues of international policies".