Undersecretary Riveros at the closing of the V Working Meeting of the Bioceanic Corridor: It is a work that will benefit the development of our countries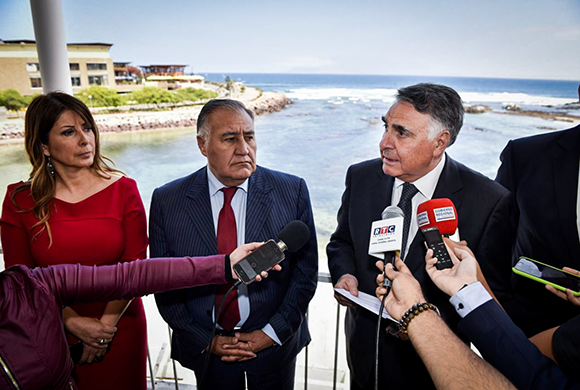 The Undersecretary of Foreign Affairs, Edgardo Riveros, chaired the evaluation session and conclusions of the V Meeting of the Working Group of the Bioceanic Road Corridor, Puerto Murtinho - Ports of Northern Chile, a joint initiative of Chile, Argentina, Brazil and Paraguay.
The activity took place in Antofagasta, in the 2nd Region, where the Vice-Minister of Economic Relations and Integration of Paraguay, Luis Fernando Avalos; the Undersecretary of Latin American and Caribbean Affairs of Argentina; Leopoldo Sahores; and the National Coordinator of Bioceanic Corridors of the Ministry of Foreign Affairs of Brazil, Joao Parkinson were present. In addition, the Mayor of Tarapacá, Claudia Rojas, and of Antofagasta, Arturo Molina, together with the Mayors of Iquique and Ollague, participated in the event.
The bioceanic corridor project is a joint initiative between the four countries that seeks to link the Atlantic Ocean with the Pacific Ocean between Puerto Murtinho and the ports of northern Chile, crossing Paraguay and Argentina, which aims to enhance trade, investment, business activity and multidimensional links of the four countries with Asia Pacific.
At the end of this two-day meeting, Undersecretary Riveros declared that "we are very satisfied with the success of this V meeting. It has developed successfully in the perspective of establishing the Bioceanic corridor that will link Puerto Muntinho, in Mato Grosso Do Sul, Brazil, with the ports of northern Chile, and will go through Paraguay and Argentina".
In addition, Undersecretary Riveros recalled that this initiative is part of a presidential agreement signed by the four presidents of Chile, Argentina, Paraguay and Brazil in Asunción in 2015.
Along these lines, the Undersecretary announced that "the next summit to be held within the framework of Mercosur. We will give an account of these advances and we will see how the work is progressing towards the future, because the idea is that in a period of no more than 4 or 5 years we will have completed a work of this nature that will benefit the development of our countries, not only economically, but also in what is the link between the inhabitants of the 4 countries".