Undersecretary attended the II Meeting of Ibero-American Foreign Ministers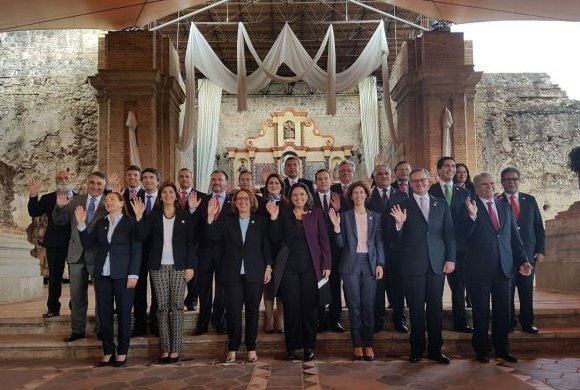 The Undersecretary of Foreign Affairs, Edgardo Riveros, participated in the Second Meeting of Ibero-American Foreign Ministers held in Antigua, Guatemala, on December 7, 2017.
During the meeting, Chile ratified its commitment to the Ibero-American Conference, emphasizing that we understand it as the ideal meeting place for cultures, where diversity enriches dialogue and the exchange of experiences of the countries that make it up.
In his speech, the Undersecretary highlighted the leadership achieved by the Republic of Guatemala in leading the mechanism's Pro Tempore Secretariat. The dynamic and committed work of Ibero-American General Secretary Rebeca Grynspan and her team was also highlighted. On this occasion, the achievements of the Conference, which in 25 years has allowed greater rapprochement, horizontality, inclusion, permanent dialogue and has become one of the most solid and best cooperation platforms in the region, which extends to three European countries, were appreciated.
The role of the PTS of Guatemala was highlighted for focusing its work on identifying, from the Ibero-American Conference, its support and contribution to the achievement of the Sustainable Development Goals (SDG).
Chile highlighted its work with the Conference and SEGIB during 2017, in particular the implementation of the Ibero-American Institute for Early Childhood in Santiago; the International Seminar "The New Challenges of Social Cohesion"; the signing of the Agreement between SEGIB and AGCI for the establishment of the Chilean Fund for South-South Ibero-American Cooperation.
In the field of Cooperation, Chile noted its disagreement with the graduation applied by the Development Assistance Committee (DAC) of the Organization for Economic Cooperation and Development (OECD). It was announced that Chile will continue to insist that this situation be reversed and that only the average income for these effects is no longer considered.
Chile supports the Principality of Andorra to assume the Pro Tempore Secretariat for the period 2019-2020 and to hold the XXVII Ibero-American Presidential Summit in its country.