Under Secretary visits Chilean contingent in Bosnia and Herzegovina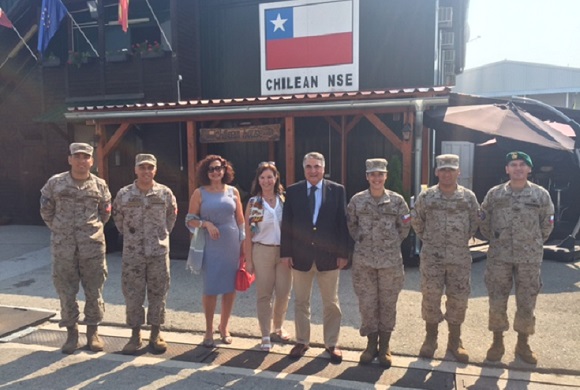 The Under Secretary of Foreign Affairs, Edgardo Riveros, visited this Sunday the Chilean contingent that takes part in the Crisis Management Military Operation of the European Union in Bosnia and Herzegovina (Eufor Althea). The national authority met in Sarajevo with the Commander of Eufor Althea, Major General Anton Waldner, and then held a meeting with the seven Chilean member that are currently in that city.
During the visit, the Under Secretary studied closely the labour that the European Union's stabilization force (EUFOR) performs in Bosnia and Herzegovina, on which there is a Chilean contingent of 15 members of the Chilean Army. At the begging of and after the meeting with Under Secretary Riveros, Major General Anton Waldner (Austria) acknowledged Chile's commitment of expanding the Chilean endowment deployed in said country.
Afterwards, General Waldner highlighted the significant contribution of the Chilean troops, emphasising their professionalism and dedication, as well as their commitment with the EUFOR duties, whose priorities are to contribute to the peace and stability of the country.
On his part, the Under Secretary renewed Chile's commitment with the European Union and their mechanism of Crisis management, with which Chile has been cooperating since 2003. Subsequently, the Under Secretary visited the headquarters of the Chilean contingent in Sarajevo – Camo Butmir – where he conveyed the best regards of the Chilean Government and he greeted the national troops. "Chile, within the framework of our commitment with the multilateral activity and everything related with the preservation of peace and international security as the guiding principles of our foreign policy, has had a continued presence in this type of mission", underscored the Under Secretary.
Later, the Under Secretary visited Banja Luka, where he has direct contact with the work our troops are doing as custodians of the Chilean LOT house, including the functions of connection and observation. In the course of the sustained conversations, the Under Secretary was able to verify the strong bonds that have been developed with the local community, which has allowed our military troops to, not only to create a vantage point of EUFOR in that city, but also contributing to a positive image of Chile within the local medium.
It is worth pointing out the particular effect that the commitment with the children has had in topics related to demining education and security and peace issues.