Under Secretary Riveros visits Bosnia and Herzegovina and Croatia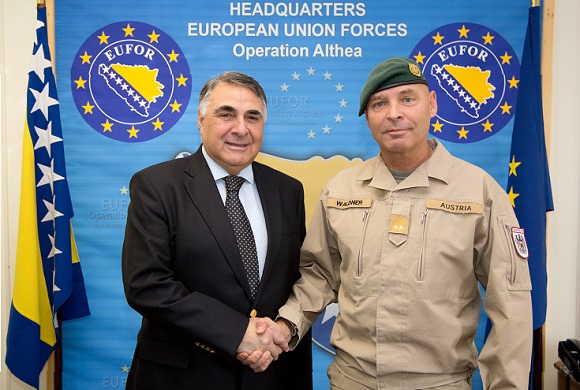 The Under Secretary of Foreign Affairs, Edgardo Riveros, will meet on August 27, in Bosnia and Herzegovina, with the Chilean contingent displayed in the Eufor Althea Mission (CHILFOR28), both in "Camp Butir" in Sarajevo, and in the city of Banja Luka, which is located at the northern part of the country. In this last one, he will have lunch with the contingent and he will visit the Chilean LOT House, where he will attend a presentation on the labour of CHILFOR28. Within the framework of the visit, he will also met with the Commander of Eufor Althea (COMEUFOR), Major General Anton Waldner.
The presence of Chile in Bosnia and Herzegovina goes back to the year 2003, when our country took part in the NATO Stabilization Forces (SFOR). In 2004, a new chapter of this peace operation began, with the UN EUFOR ALTHEA Operation, on which Chile has taken a part ever since. Its objective is the application of the Framework Agreement for Peace in Bosnia and Herzegovina, also known as the Dayton Agreement (1995) and the reconstruction of the political institutions of the Bosnian State.
Chile is the only non-European country taking part in this peace operation. As a recognition of the commitment and efforts displayed by the national forces, last April 2017, Chile accepted to take on two relevant posts of the Mission, which will translate on a rise of our endowment, beginning January 2018.
For his part, in Zagreb, Under Secretary Riveros will chair, on August 28, the VIII Meeting of Political Consultations with Croatia, country with which Chile holds a profound bond, due to the significant Croatian immigration that came to our territory at the end of the XIX century, and beginning of the XX century.
Chile was the first Latin American State to acknowledge the independence of the Republic of Croatia on January 16, 1992, and on April 15, 1992, established diplomatic and consular relations. Furthermore, on February 1995 our country opened its Embassy in Zagreb. Chile will make use of this visit to commemorate the 25th anniversary of Croatia as an independent republic and the establishment of diplomatic relations.