The Ottawa Convention and Chile's commitment towards a mine-free world by 2025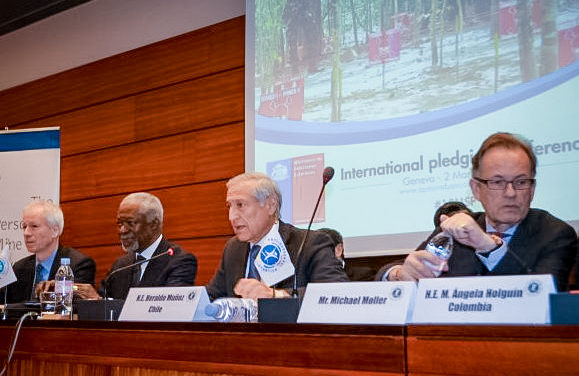 In a couple of months, Chile will start the countdown to the 15th Meeting of the States Parties of the Anti- Personnel Mine Ban Convention, also known as the Ottawa Convention, which will be held in Santiago between November 28th and December 2nd. The international diplomatic conference will receive around 1,000 delegates in order to discuss aspects like the assistance to landmine victims as well as the protection of their rights.
The Anti-Personnel Mine Ban Convention is a global effort to eradicate anti-personnel mines and to guarantee rights of landmine survivors. It is considered as one of the most important international disarmament and humanitarian treaties. It was adopted in Oslo in 1997, opened for signature in Ottawa the same year and entered into force on March 1st 1999. Since then, millions of square meters of minded areas have been released for normal human activity, and 47.5 million stockpiled mines have been destroyed.
During the last decade, Chile destroyed its stockpile of almost 300,000 anti-personnel mines and has removed and destroyed almost half of the anti-personnel and anti-vehicle mines that were planted in the past. A continuing effort has been done in the rest of Latin America as well. As a result, in Central America, many minded areas have been cleared. At the same time, Peru and Ecuador are expected to complete their demining process in 2017.
In this context, the Chilean Government as well as many other non-state actors around the world, will pay special attention to this conference. In fact, on March 2nd 2016, in the context of the 14th Meeting of States Parties to the Mine Ban Treaty, 17 years after the Treaty entered into force, Former Secretary of the United Nations Kofi Annan joined in Geneva the Foreign Ministers of Canada, Chile and Colombia, pledging support for the Mine Treaty. On the occasion, the states affected by landmine contamination explained their plans in order to get rid of mined lands.
Chile is the current President of the Mine Ban Treaty so Foreign Minister Heraldo Muñoz presided over this half-day conference in Geneva which focused on the need to sustained financial resources and political support towards a mine free-world by 2025.
In this regard, it is worth mentioning the role of Chilean lawyer Maria Soledad Cisternas Reyes who also works as a political scientist, law professor, researcher and consultant. She is the director for different projects for human rights and the author of several publications. She has won several awards including "Equality and no Discrimination, Distinction by the Chamber of Deputies of Chile (2008), the Elena Caffarena Award, on International Women's Day (2009) and Acknowledgement from the Chilean Senate (2009).
Maria Soledad Cisternas currently chairs the United Nations Committee on the Rights of Persons with Disabilities (CRPD) which is also related to the Ottawa Convention on anti-personnel mines. In this regard, the emphasis is put on helping people with disabilities in order to increase resources for landmine survivor, rehabilitation and assistance.
Non-governmental organizations
There are also several non-governmental organizations like the International Campaign to Ban Landmines (ICBL). On their website http://goo.gl/es3AUa , the entity is described as a "global civil coalition of hundreds of organizations working for a world without antipersonnel landmines, where the suffering caused by these weapons has ended, and where the rights of victims are upheld and realized". It was created in 1992 and it currently takes action in about one hundred countries.
Moreover, in June 1998, in the context of the International Campaign to Ban Landmines, the ICBL created the Landmine Monitor which focuses on monitoring and reporting through detailed and accurate information on the global mine and explosive remnants. Their goal is also to achieve a Mine-Free world by 2025.
Another organization is the Danish Demining Group (DDG) which operates in the countries that have been affected the most by this issue. The organization has recently released three short films produced by Mads Andreas Worm and Edward Crowther of DDG Afghanistan in collaboration with Assad Theater Production, UNMACA and Handicap International. These short films tell about common situations in which young people encounter mines as well as other explosive remnants of war.
Afghanistan remains one of the countries in the world most affected by this issue. Last year, 431 civilian casualties from explosive remnants were reported by the United Nations Assistance in Afghanistan. Recently, Sri Lanka announced its accession the Min Ban Treaty which constitutes a major development in South Asia and also an important contribution in order to build a mine-free world.