Foreign Minister Muñoz meets with his Finnish counterpart, Timo Soini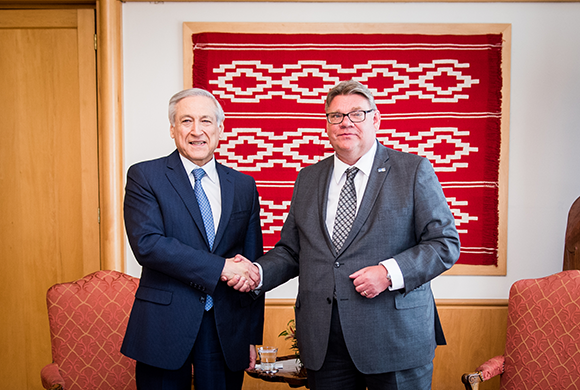 Today, Foreign Minister Heraldo Muñoz received the Minister of Foreign Affairs and Deputy Prime Minister of Finland, Timo Soini, in audience. After the private conversation, the leaders held an extended work meeting with their respective delegations.
During the meeting, the leaders and their delegates addressed the main subjects of the bilateral relationship and reviewed existing partnerships and new initiatives across a variety of fields. Afterward, Minister Muñoz hosted a luncheon in honor of his counterpart attended by high-level national authorities.
It should be noted that Chile is Finland's second largest South American commercial partner, after Brazil. In 2015, commercial trade between the two reached US $435 million. Between 1974 and 2015, Finnish investment in Chile rose to US $100.3 million, primarily in the fisheries and aquaculture (81%), mining (15%), and chemical industry (2%) sectors. Chile and Finland have partnered together in other arenas as well, such as education, mining, forestry and energy.
Minister Timo Soini has been in Chile since August 8, and will end his trip tomorrow. For the duration of his visit he has been accompanied by a business delegation from the biotechnology sector as well as an academic delegation consisting of 25 people. His schedule has included meetings with Máximo Pacheco, the Minister of Energy; Pablo Badenier, the Minister of Environment; and Ximena Rincón, the Minister of Labour. It has also included signing the Memorandum of Understanding related to bioenergy as well as attending the signing of the Inter-Institutional Agreement on the Treatment and Management of Water Resources.