Minister Muñoz launches website on historical archives of the Ministry of Foreign Affairs related to human rights violations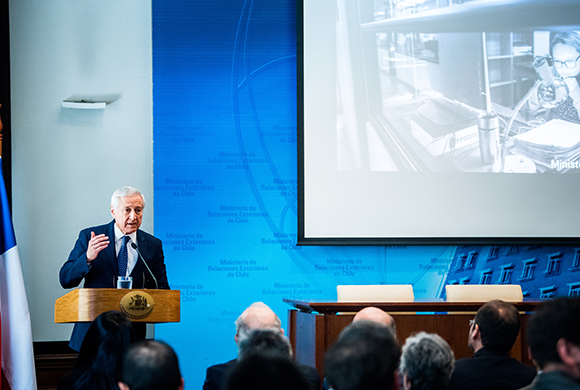 As part of the commemoration of International Human Rights Day, Chile's Minister of Foreign Affairs, Heraldo Muñoz, launched the "Documentary Exhibition 1973-1990", which is now available on the Foreign Ministry's website and is a first step towards a more complete digitization of all historical documents contained in the Ministry's archives.
These documents contain information on the human rights violations that took place in Chile between 11 September 1973 and 10 March 1990, exchanged between the Ministry of Foreign Affairs, the Ministry of National Defence, the branches of the Armed Forces, the Public Order and Security, and the repressive bodies created by the dictatorship.
"Although the documentation was once classified as secret or reserved, Law No. 20.285 on Access to Public Information established that this categorization is no longer in force. We are convinced that these archives are a direct source for the study of our country's recent human rights history, and that from today they will be accessible with a single click", said Minister Muñoz during the ceremony.
The most important aspect of this initiative, he said, is "contributing to services related not only to the defence of human rights, but also to documentary and archival work. This is essential for memory and, if possible, also for justice".
This first stage includes 26 documents corresponding to 127 sheets in PDF files, related to human rights violations, which are divided into five sections: Repression; Asylum; Exile and Return; Chancellery; International Organizations.
Among the documents available are those related to detainees in the "Dawson Island Detention Camp"; asylum seekers in foreign representations such as the Embassy of Argentina, Colombia, Finland, France, Spain, Honduras, Mexico, Sweden and Switzerland; list of persons most wanted by the Chilean Army; communications between the National Intelligence Directorate (DINA) and the Ministry of Foreign Affairs; among other files that have been kept and guarded by the Ministry.
The Minister of State also pointed out that "some of the documents are very impressive". For example, they include information on the collaboration of chancellery officials on asylum seekers in different countries. In addition to this, there are documents signed by Generals Manuel Contreras, Jorge Arellano Stark and "other characters of the repression that were prosecuted and condemned by the justice of our country", he added.
See here the Documentary Sample of Human Rights (1973-1990) of the Chancellery Historical Archive