Minister Muñoz held an audience with Paraguayan Foreign Minister and signed Memorandum of Understanding on Consular and Immigration Affairs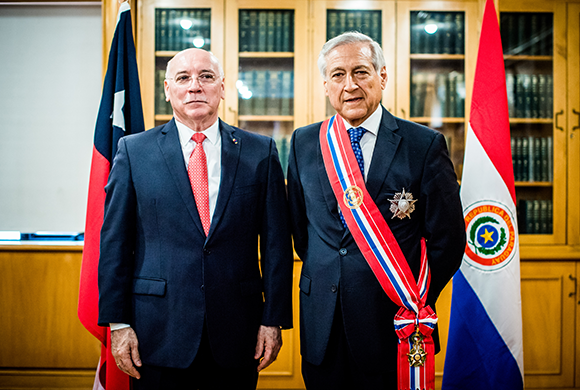 Foreign Minister Heraldo Muñoz received his counterpart from Paraguay, Eladio Loizaga, in an audience today. At the meeting, the authorities highlighted the links between the two countries and the tradition of cooperation, good dialogue and understanding. They also agreed that physical integration and energy cooperation are elements that complement and deepen the bilateral relationship.
After the meeting, both Ministers signed a Memorandum of Understanding on Consular and Migration Matters based on the commitment adopted in the framework of the Fifth Meeting of the Chile-Paraguay Political Consultations Mechanism, held in Santiago on August 3rd, 2017. The agreement signed will strengthen the exchange of information on migration regulations and institutions, particularly in view of Paraguay's experience with migration regulations, policies to promote decent work for migrants and combat human trafficking.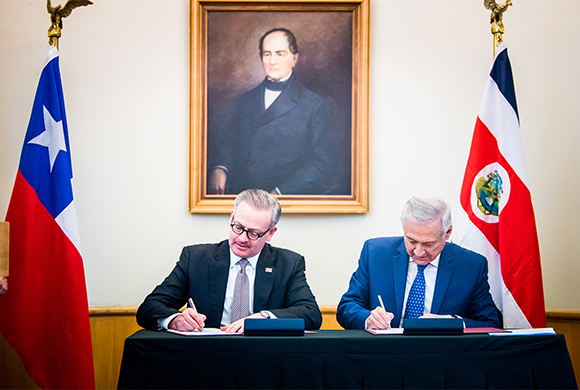 "We are seeing more and more Paraguayans in Chile and probably many Chileans also in Paraguay. There are flights that connect us more and today this is a phenomenon that we have to regulate and deepen", affirmed Minister Muñoz. "The migration is positive; this is how communities are built because generally those who migrate are the most ambitious. Facilitating consular affairs is something that complements what we have done between the two nations", he added.
"I am extremely pleased to have signed a new agreement that deepens relations between Chile and Paraguay", he said.
Subsequently, Chile's Minister of Foreign Affairs, Heraldo Muñoz, received the "Orden Nacional del Mérito" (National Order of Merit) in the Great Extraordinary Cross by Paraguayan Foreign Minister Eladio Loizaga, in recognition of his "fruitful work" for the benefit of the strong ties that unite Chile and Paraguay, and their respective people and governments.
It is worth recalling that in September last year, the First Chile-Paraguay Binational Council of Ministers was held in Santiago. On that occasion, five Inter-Institutional Agreements were signed and gave momentum to the objective of elevating the bilateral relationship to a level of strategic partnership. During that meeting, both Chancellors visited Antofagasta to verify on the ground the advances that seek to make the Deposit Franco and the Free Zone operative for goods exported or imported by Paraguay.