Minister Muñoz after a dialogue between the government and opposition in Venezuela: "There has been good progress. We have to maintain a positive attitude"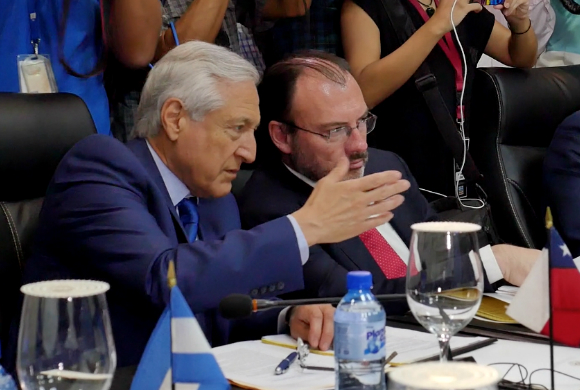 The Minister of Foreign Affairs, Heraldo Muñoz, participated today in the second and final day of a new round of Political Dialogue between the Government of Venezuela and opposition representatives gathered at the Mesa de la Unidad Democrática (MUD), which took place on December 1 and 2 in the Dominican Republic. Chile was invited by the opposition to be an accompanying country along with Mexico and Paraguay, which was unable to attend the meeting due to internal affairs. The ruling party, meanwhile, designated Bolivia, Nicaragua and Saint Vincent de las Granadinas as guarantors.
"There's been some good progress. There is a draft that is being analyzed by the parties, both the government and the opposition, and there seems to be a significant rapprochement based on what has been presented by the President of the Dominican Republic, Danilo Medina, the facilitators, and the cooperation of the accompanying Chancellors" said Foreign Minister Muñoz before leaving for Chile.
"I believe that, in general, there is a positive attitude towards the draft. This is a good basis for negotiation, that was made clear; but there are nuances and details. It is said that 'the devil is in the details' and of course there are still many more to settle. But I think we can affirmatively say that there has been progress", said the Minister, adding that this draft will be submitted for consultation by both sides.
In conversation with the press, the head of the diplomacy said that "we have to maintain an optimistic attitude regarding the possibility of a political solution, of a successful negotiation to overcome the crisis that the brotherly country of Venezuela is going through". Regarding the role of Chile and the accompanying countries, he said that "I believe we have been very active in finding a peaceful, political and credible solution to this crisis that the people of Venezuela have experienced".
This round of dialogue began yesterday with a 12-hour marathon day and ended this afternoon after a meeting which lasted more than 10 hours. The parties will meet again on December 15 in Santo Domingo, "with the objective of reaching an agreement", according to Dominican Republic President, Danilo Medina.
Among the topics discussed, the Venezuelan government and opposition spokespersons informed you about the upcoming election process, the economic sanctions against the government of Nicolás Maduro, the institutionality of the country and the humanitarian situation.