Minister Muñoz addressed the current affairs of Chilean International Relations with the Council of Former Foreign Ministers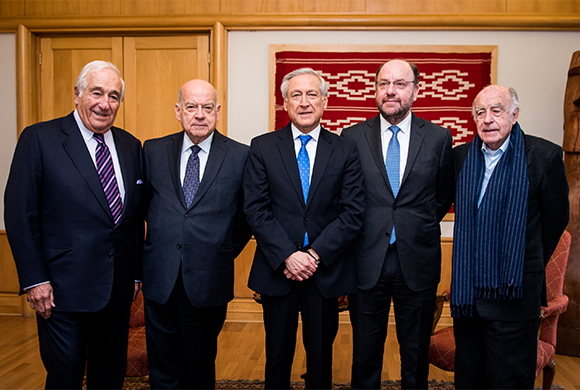 The Minister of Foreign Affairs, Heraldo Muñoz, met today with the Council of Former Foreign Ministers to discuss the main issues attaining Chilean International Relations. Former Ministers Hernan Felipe Errázuriz, Carlos Figueroa, José Miguel Insulza, Alfredo Moreno y Miguel Schweitzer attended the conference.
By the end of the meeting, Minister Muñoz reported that they had had a "pretty intense agenda" and that they discussed the main issues of Chilean international relations. Amongst these, we can count the Pacific Alliance Summit that took place in Cali, Colombia, and where Chile handed over the Presidency Pro Tempore of the organization to the host country. "It was a great success. Chile fulfilled its PPT with an agreement to begin free trade negotiations between the alliance and four countries: Canada, Australia, New Zealand and Singapore."
They also discussed the improvements made between the Pacific Alliance and Mercosur, specifically regarding the fields of interest between both sides.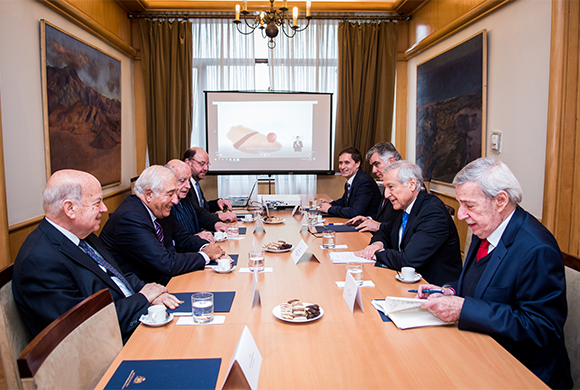 Another subject discussed was the 2+2 Meeting with Peru, which took place last week in Lima between the Foreign Ministers and the Defence Ministers of both countries, and presented very positive results. Also, the Minister pointed out that on Thursday and Friday the Council of Binational Ministers will take place, also in Peru. This is an "unprecedented event in the history of both our countries". It will count with the presence of both Presidents alongside with 18 Chilean ministers and their Peruvian counterpart. "We believe that this is a step towards the future relations that we want and have been working towards with Peru" added the Secretary of State.
In addition, the Council also discussed the good moment our relationship with Argentina is going through, especially in lights of President Mauricio Macri recent visit to our country. "We went through all that we are doing; the agreement of economic freedom that we hope to have ready by October; our current work towards improving the connectivity between both countries; our plans for 2030; and even the possibility of having binational parks; together with a number of endeavours that reflect a very healthy neighbourly relation".
Regarding our relationship with Bolivia, Minister Muñoz informed that they talked about the lawsuit Chile presented on Monday against this country, regarding the Silala River case. "We have shared our vision, which is that we have to defend our national interests, having in consideration that the Bolivian state recognized the Silala as an international River for over 100 years. We have received unanimous support from the former Foreign Ministers in this regard, as it is in our national interest. I have also informed them of the advances we have made in the other case, the Maritime Lawsuit, and the Replicate we are working on to present this coming September 21st" Informed the Minister.