India renews its interest in investing in Chile at the Foreign Minister's meeting in New York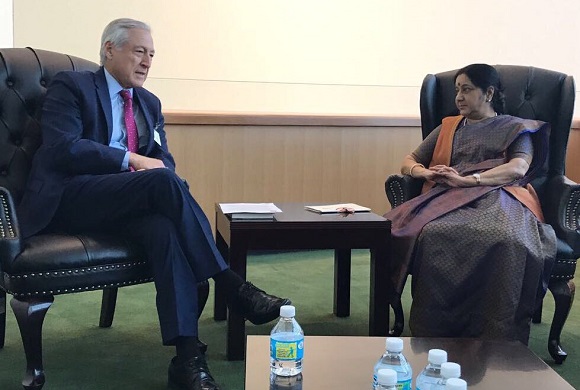 On the fifth day of the United Nations General Assembly in New York, Foreign Minister Heraldo Muñoz met with Indian Foreign Minister, Sushma Swaraj.
At the meeting, the authorities reviewed the political, economic and cultural exchange between the two countries, which now amount to almost 70 years of diplomatic relations. In fact, Chile was the first Latin American country to establish relations with India, which is the second most populous country in the world after China, with around 1,324 million people.
During the meeting, the Minister of India expressed her country's interest in increasing its investment in Chile, especially in the area of renewable energy and agreed with Minister Muñoz on the need to join forces to promote the use of solar energy.
It is worth mentioning that India, together with France, launched the "International Solar Alliance" during the Climate Summit held in Paris in 2015. The group, which brings together more than 120 countries between the Tropics of Cancer and Capricorn, including Chile, aims to get developed nations to transfer technology and finance to poorer states.
Chile and India have a strong relationship, which has been reflected in an intense international trade in recent years. President Michelle Bachelet undertook an official visit in 2009, within the framework of the 60th anniversary of the establishment of diplomatic relations, during which several agreements were made, including the deepening and expansion of the 2006 Partial Scope Agreement, which came into force this year.
In 2015, the visit to New Delhi of former President Eduardo Frei Ruiz-Tagle as Ambassador Extraordinary and Plenipotentiary in the Special Mission for Asia-Pacific, opened new spaces for convergence and cooperation in tourism, energy, education and investment.
The commercial relationship between Chile and India is part of the Partial Scope Agreement. Exports from our country amounted to US$ 1,401 million in 2016, while imports in the same year reached US$ 726 million.
The main products exported are those of the mining sector, which represent 89% of total exports.