Foreign Ministry bids farewell to the Ambassador of India at end of mission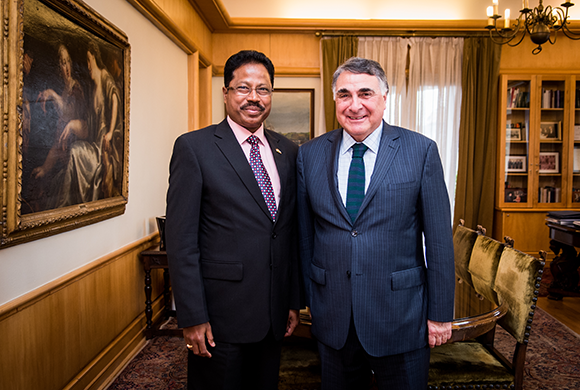 Ambassador Milenko Skoknic, the Director General of Foreign Policy, hosted a luncheon in honor of Debraj Pradhan, the Ambassador of India to Chile, on the occasion of the end of his duties in Chile. The event was attended by representatives of the diplomatic corps, directors of the Foreign Ministry and representatives of the Indian community in Chile.
The celebration started with an audience with Undersecretary of Foreign Affairs Edgardo Riveros.
Ambassador Pradhan, who stayed in Chile for two and a half years, spent his time here working on strengthening and increasing political dialogue, academic and cultural cooperation, development opportunities in science and technology, commercial exchange, and the promotion Indian culture in Chile.
During his tenure, Ambassador Pradhan successfully promoted the first "EXPOINDIA" in Chile, as well as several other events dedicated to the cultural and academic heritage of India. It is worth noting that he was responsible for the push that lead to the Chamber of Deputies of Chile approving the "National Day of Yoga" last September.