Tuesday, April 11, 2017
Foreign Minister welcomes his peer in Brazil and highlights coincidences in the bilateral and regional areas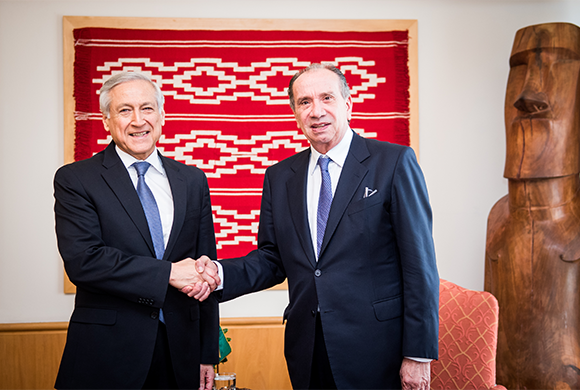 This afternoon Minister of Foreign Affairs, Heraldo Muñoz, received his peer in Brazil, Aloysio Nunes, who is on an official visit to our country. In the visit, they reviewed diverse bilateral and regional issues.
The relationships between both Nations have characterized for a close and fluent political dialogue. Both have coincided in some postures in the regional and multilateral area. In this sense, after the encounter, Minister Muñoz highlighted the deep friendship that bonds both Nations historically, and also the fact that Brazil is the main destination for Chilean investment abroad.
In this opportunity, Foreign Minister Muñoz thanked Foreign Minister Nunes for "the solidarity of the Brazilian Government in such difficult moments as the forest fires occurred in our country. Firefighters and two Hercules airplanes arrived to fight the fire. This was a gesture of solidarity we highly valued because it is in times of need were true friends appear. These airplanes have been a long time her and we observed how they helped fight the fire in the places we asked them to, without asking anything in return or bragging about the solidarity offered by them".
Likewise, the Secretary of State stressed that this meeting allowed to agree on the second term reunion between both Foreign Ministers and Defense Ministers. "This is the mechanism we know will deepen our bilateral relationships, and we are very satisfied to be able to confirm an early date", he stated.
Both Foreign Ministers reiterated their commitment with bioceanic corridors that will initiate in Porto Murtinho, pass through Paraguay, North of Argentina, and will get to the North of our country. Minister Muñoz emphasized, "there is an advance in this sense and we would like it to come true as soon as possible".
On the other hand, Minister Muñoz remembered that both of them have met last week with the Pacific Alliance and Mercosur colleagues in Buenos Aires. In that occasion, they agreed on an integration roadmap between the two schemes of common interests. "I think this is a great step in concrete integration, not rhetorical, to advance in the approach between the two blocks. This roadmap has at least six objectives that will facilitate from trade to services. So we are very satisfied on celebrating that meeting and have coincided with our Brazilian colleagues on the importance this approach between both blocks has for the integration of Latin America".
Finally, the Secretary of State highlighted the commitment of both nations to democracy and human rights, and also their concerns on what is happening in Venezuela. "We have discussed it in Buenos Aires and we have, once again, reaffirmed our commitment to contribute to diplomatic solutions that allow the full re-establishment of the constitutional order of that country", he affirmed.
On his part, Minister Nunes also highlighted the strong bond between both Nations and mutual defense of democracy and human rights. In the economic sphere, he stressed the interest of Brazil in deepening the relationships of Mercosur with the countries of the Pacific Alliance. "There is nothing left but to celebrate the continuity, the development of friendship, and the convergence in diversity" of both countries, concluded the Brazilian Minister.