Foreign Minister (s) presents book in English on the culture of Chilean wine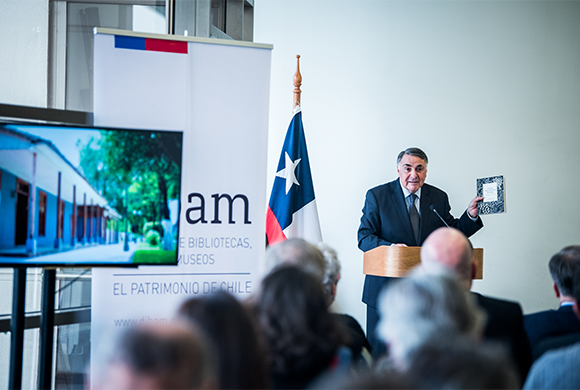 With almost 4,000 kilometres of territorial extension, Chile possesses a great diversity of viticulture that is represented in traditional experiences linked to grapevine agriculture, in the artisanal production of wines and in sustainable practices in small estates, which are the sustenance of a high percentage of those who practice rural family agriculture.
In order to highlight the value of this diversity, Foreign Minister (s) Edgardo Riveros, together with Deputy Director of Estate Management Mónica Bahamondes, representing the Director of DIBAM, launched the English edition of the book "Patrimonio Vitivinícola: aproximaciones a la cultura del vino en Chile (Ediciones Biblioteca Nacional 2015), Chilean Wine-growing Heritage: approaches to wine culture".
"The issue of wine has become part of the cultural approach and projection of our country", stressed the Chancellor (s). He also said that "we hope that our friends abroad can be recipients of this message, because in short, what is here is a message, is a presentation and we hope that this will help very strongly towards the presence of this emblematic product of our country".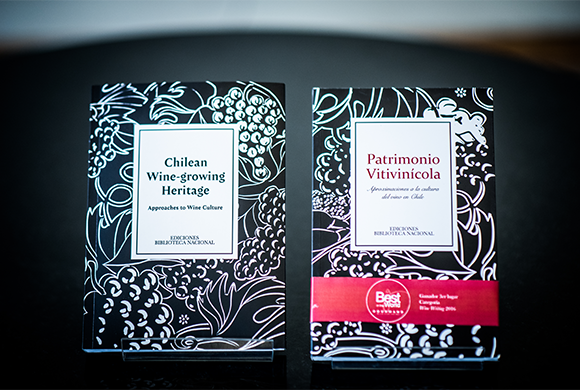 A team of forty professionals, including oenologists, historians, poets, journalists, researchers of traditional culture, small producers, farmers, photographers and illustrators, collaborated in the preparation of this publication.
The prologue is written by Mario Fregoni, professor emeritus in viticulture at the University of Piacenza and honorary president of the International Organization of Vine and Wine, who promotes the idea of the universal value of Chilean viticulture, due to its natural and organic characteristics, and proposes that Chile should be recognized as a World Heritage Site by UNESCO.
The translation and edition of this important work has been made possible thanks to the support of the Directorate of Cultural Affairs of the Ministry of Foreign Affairs, within the framework of the programme for the international dissemination of the bibliographic heritage, which was developed together with DIBAM, in accordance with the provisions of Reading Policy and Book 2015-2020, promoted by the National Council of Culture and the Arts.
Its publication will help spread the concept of "wine heritage" to refer to the tangible and intangible elements of Chilean wine culture.
This book will be presented this year in the Netherlands, as part of an activity organized by ProChile and through the Embassies of Chile, an international distribution will be targeted at entities linked to the wine heritage, as well as the specialized press and scholars of the matter.
We are currently working together with the Ministry of Culture of the Presidency of the Republic of Argentina on a possible candidacy of wine from both countries for the MERCOSUR Cultural Heritage.