Foreign Minister Muñoz participates in the IV Annual Meeting of Scholarship Holders 2017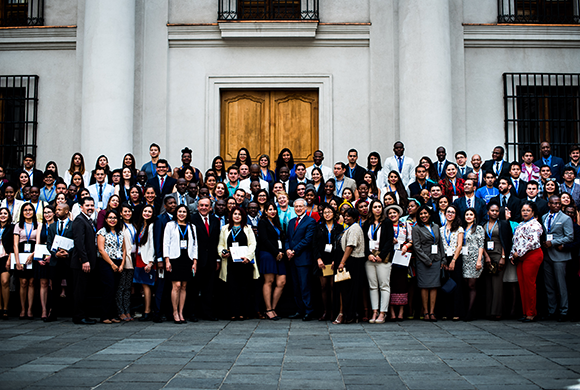 In the Courtyard of Las Camelias at the Palacio de La Moneda, President Michelle Bachelet, accompanied by Foreign Minister Heraldo Muñoz, welcomed 200 students and professionals from various countries in Africa, Latin America and the Caribbean, who have benefited from various scholarship programs managed by the AGCI, from the Ministry of Foreign Affairs, in the framework of its IV Annual Meeting of Scholarship Holders.
The ceremony was attended by the Executive Director of the International Cooperation Agency of Chile, Ambassador Juan Pablo Lira, as well as Ambassadors and representatives of the various study houses that receive the AGCI scholarship holders.
"This meeting is a reflection of the commitment that our country acquired in 1993, through our Agency, to have a scholarship program for education in Latin America and the Caribbean, and that incorporated Africa in 2014. International cooperation is fundamental to contribute to the training of professionals and technicians, both Chilean and foreign, promoting the integration and development of our countries", said AGCI Director, Ambassador Juan Pablo Lira.
From 2014 to 2017, AGCI has managed more than 1.800 fellowships for the programmes: Magíster República de Chile; Magíster Nelson Mandela (for professionals from South Africa, Mozambique and Angola); Magíster Reciprocidad Chile-Mexico; Magíster José Martí; Platform for Student and Academic Mobility of the Pacific Alliance; Cross-border Integration Scholarships with the University of Tarapacá in Arica; Human Resources Training Program for Disaster Risk Reduction (KIZUNA); and international courses, among others.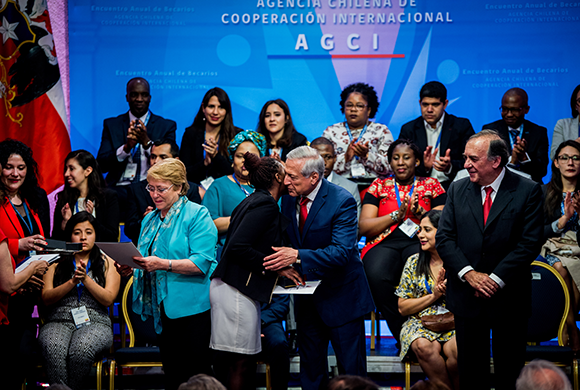 AGCI's Training and Scholarship Program is aimed at training and improving foreign human resources in Chile. In 2014, 241 scholarships were awarded and this year the number increased to 580 young people and professionals who are studying in our country.
To mention a few, in 2017 alone, 50 scholarships were awarded for the Magíster República de Chile; 18 Nelson Mandela scholarships; 10 for the Magíster de Reciprocidad Chile-Mexico; 2 scholarships for the José Martí program, 100 undergraduate and postgraduate scholarships for the Pacific Alliance; 20 Manuela Sáenz scholarships; and 50 Cross-border Integration scholarships for students from Peru and Bolivia. These, together with the continuity scholarships, diplomas and international courses, total almost 700 scholarships this year.
It should be noted that AGCI is working to create a Network of Ex-Scholarship Recipients for Social Innovation, in order to strengthen and further expand the ties between those who have chosen Chile as a country of improvement, which follows the guidelines of Chile's Foreign Policy. Meetings have already been held in Mexico, Colombia, Ecuador and Peru.