Foreign Minister Muñoz opened the 44th International Meeting of Deans and Directors of Diplomatic Academies: "What we need today are analysts who scrutinize the facts"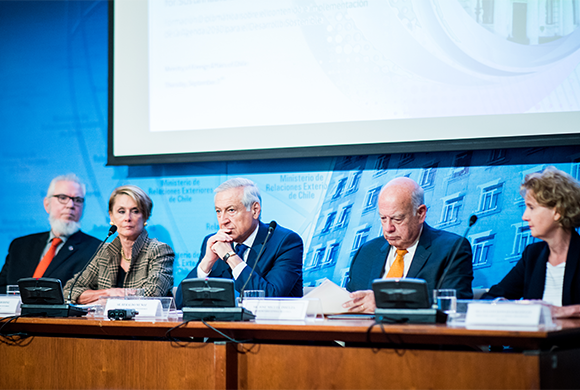 The Minister of Foreign Affairs, Heraldo Muñoz, together with the Director of the Chilean "Andrés Bello" Diplomatic Academy, Ambassador Juan Somavía, inaugurated today the 44th International Meeting of Deans and Directors of Diplomatic Academies and Institutes of International Relations: Diplomatic Training on the matter and implementation of Agenda 2030 for Sustainable Development, in the O'Higgins Hall of the Ministry of Foreign Affairs.
Representatives of fifty-five institutions from 48 countries from the five continents are participating in this meeting, which will last until September 8. The initiative aims at discussing diplomatic events in today's world and answering questions about the challenges that diplomatic work will face in the future.
In that regard, Minister Muñoz appreciated the work of the participants in the meeting. "You have proposed an essential task: to train the diplomats of the future while living in particularly confusing times and this accentuates the importance of the task", he said.
The Minister stated that we are currently living in a world in which global governance is eroding, because power is becoming diffuse, and there is a stronger presence of protectionist pressures, nationalist concerns and, unfortunately, a lack of leadership worldwide. "The international order is in a period of change during which uncertainties predominate", he said.
"All this is happening in a profoundly interconnected world where the social base knows that it can use the social networks as its main weapon for protest, the one that used to be in the streets, with the crowd", he said, adding that "the digital age has accelerated life at an astonishing rate. What used to allow us to talk about the future calmly today can happen from one minute to the next".
In that sense, the Minister maintained that the current scenario "changes the way diplomacy is done. Unlike in the past, our diplomats are useless in informing us of facts, because we know these facts through networks in real time". The Chancellor affirmed that "what we need are analysts who scrutinize behind the facts and negotiators who allow us to modify or direct what happens in a given country according to our interests".
Finally, the Minister reiterated his gratitude to the participants of the meeting. "We appreciate you meeting us in Chile. We know that you will be an invaluable contribution to our shared task. Your presence also reinforces the importance of the work that our "Andrés Bello" Diplomatic Academy has done", he concluded.