Foreign Minister Muñoz opened Ordinary Sessions of the Andean Parliament and called for the Union of peoples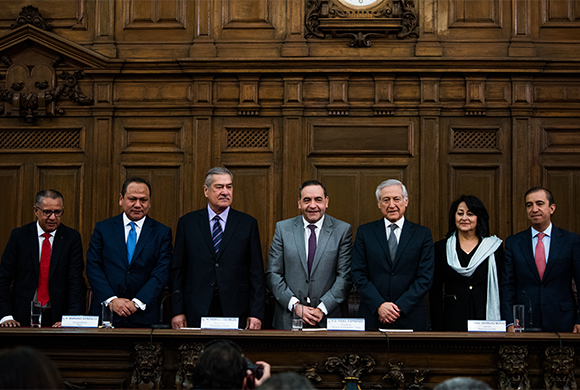 The Minister of Foreign Affairs, Heraldo Muñoz, inaugurated today the Ordinary Session of the Andean Parliament (PA), organism which is a part of the Andean Integration System and promotes the cooperation amongst the legislative powers of Chile, Colombia, Ecuador, Peru and Bolivia. It is noteworthy that our country is a full member of this entity since September 2015.
During his speech, the Chancellor pointed out that it is "very relevant that the Andean Community moves forward in different areas of integration and we are able to reach convergence points in areas of common interest". About it, he highlighted that the topics that will be addressed during this period of sessions, such as Community Tourism and the Promotion of Supply and Value chains "have to be analysed to see if it is possible to realize them in the common interest of conquering new markets".
The Minister also highlighted the contribution made by the Congresses of our countries to the development of Foreign Policy. "There is no doubt that the Parliamentary Diplomacy is extremely relevant nowadays, especially when integration needs to be more effective", he declared.
Within this context, he pointed out that the work conducted by Chilean parliamentarians in their communication with their peers around the world "is undoubtedly very relevant and it complements the job done by the Executive", adding that "we have a constant dialogue between the Government and the Congress and it goes beyond the baseline relation of our co-legislative action. Many of our initiatives, we discuss with the popular representatives, conduct joint activities, we include them in our delegations for State visits and on work commissions on specific topics".
Finally, the Minister renew "our satisfaction with the evolution of this Andean parliament encounter. It is the people of Colombia, Ecuador, Peru, Bolivia and Chile the ones who need to work closer".
The Andean Parliament has its headquarters in Bogotá and its functions consist in cooperating with the legislative concordance of the Andean countries; promoting citizen participation; strengthening the Andean integration in sight of the regional integration; exert political control over the Andean Integration System. The current ordinary Sessions will take place from today until August 19, in Santiago and Puerto Varas.