Foreign Minister Muñoz met with State Secretary of United States and Secretary General of the OAS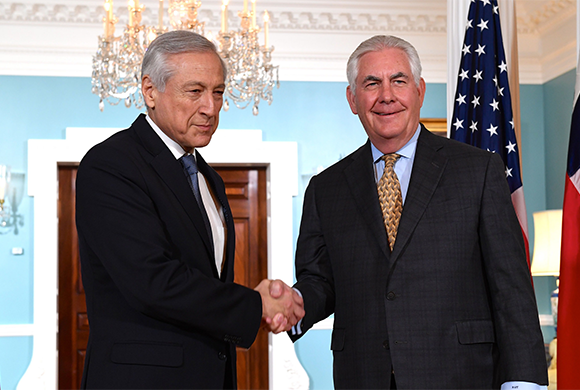 During the second day of his visit, Minister of Foreign Affairs, Heraldo Muñoz held bilateral meetings with State Secretary, Rex Tillerson, and Secretary General of the Organization of American States (OAS), Luis Almagro.
The meeting with Tillerson was the first high level encounter between the Government of Chile and the new administration of Donald Trump. In the meeting, the authorities addressed diverse issues that demonstrate the excellent bilateral relationship between both countries.
"Chile and United States have an extremely productive 13-year bilateral trade agreement" stated Minister Muñoz. "Our exports to the United States consist of many Chilean products and services, different from copper". And "the United States is also an important exporter for Chile", he added. The Minister also recalled the United States was the first investor in our country.
Both authorities analyzed the relationship between Chile and the United States at the moment as very good in political terms. "Chile is the only country in Latin America that has visa exemption to enter the country, known as Visa Waiver Program", he highlighted.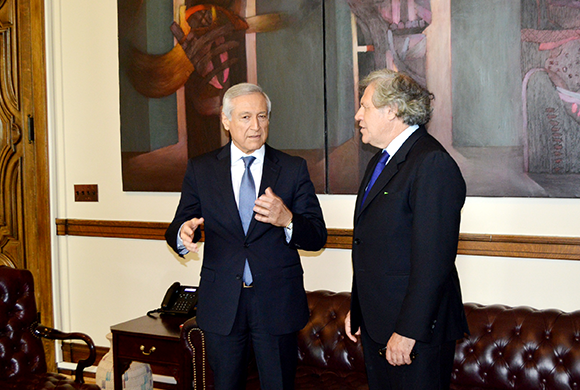 Other issues addressed in the meeting were the Pacific Alliance, Haiti, Central America, and the triangular cooperation. The support given in the region is police training and cooperation for development in the agricultural industry.
Another important matter discussed with Tillerson and Almagro was Colombia.Chile has a strong commitment to the pacification process in Colombia. For this process, Chile has observers verifying the peace agreement with the FARC is accomplished. Also, we are guarantor country of the conversations between the Government of Colombia and the ELN", Minister Muñoz reaffirmed.
Foreign Minister Muñoz discussed the Venezuelan crisis with both Tillerson and Almagro. "Chile would like our fellow country to negotiate and get a diplomatic solution for their crisis".
Foreign Minister added, "we will collaborate in whatever way possible to end this crisis and begin the installation of a democratic and constitutional order in Venezuela".