Foreign Minister Muñoz highlights ties between the Pacific Alliance and Mercosur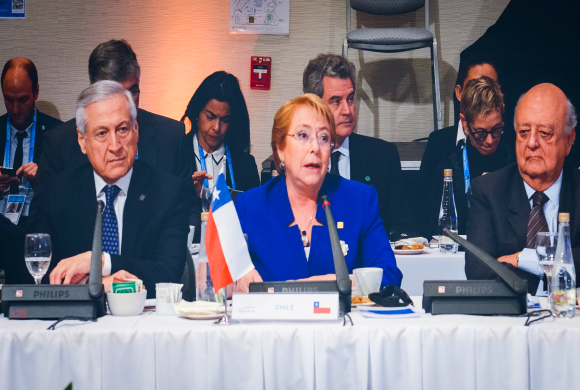 The Minister of Foreign Affairs, Heraldo Muñoz, accompanied President Michelle Bachelet to the Southern Common Market's Summit of Heads of State, composed by Argentina, Brazil, Uruguay and Bolivia; alongside the Associate States, which are Chile, Colombia, Ecuador, Guyana, Peru and Surinam, and the special guests, which main representative was Mexico.
At the end of the encounter, that took place in Mendoza's Intercontinental Hotel, the Foreign Minister emphasised that "the most important feat was the progress of the dialogue between Mercosur and the Pacific Alliance", which was made clear "in every presidential intervention, by our President and in an acknowledgement of the bond that has developed between the Pacific Alliance and Mercosur. This was reflected in a specific Roadmap agreed upon on by the Ministers of Foreign Affairs and Ministers of trade on a meeting that took place two months ago".
Furthermore, the Secretary of State reported that there were special declarations regarding other matters, such as the Falklands, illegal fishing (which was propelled by Chile from its role as Associate State) and also regarding the commitment to continue the efforts to battle climate change within the Paris Agreement framework.
A resolution was also approved by the member states of Mercosur, which had the support of associate countries, in reference to Venezuela. "We make a call to end all violence and release the politic prisoners, while reinstalling an institutional order, effecting the rule of law and the separation of powers in Venezuela", explained Foreign Minister Muñoz.
Also, in the statement "the government and the opposition are urged to hold off any circumstance that could divide Venezuelan society even further or exacerbate the institutional conflicts". Additionally, "it expresses the urgency of dialogue that allows a believable political agreement between the government and the opposition, and it also demonstrates the willingness of Mercosur countries to accompany this eventual dialogue", pointed out the Minister.