Foreign Minister Muñoz highlighted Chile's Foreign Policy Highlights during a Conference at Wilson Centre, United States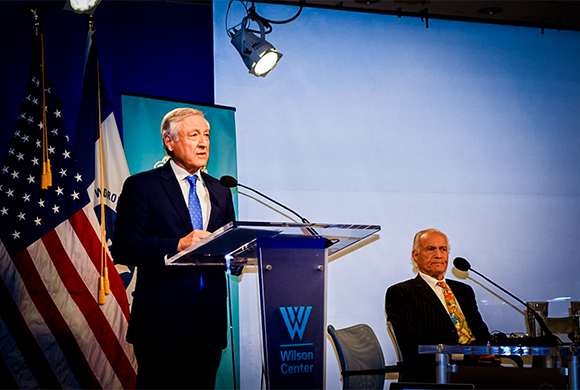 Foreign Minister Heraldo Muñoz took part today in a panel discussion "The Changing Pattern of Regional Integration" in Washington, D. C., organized by the prestigious Wilson Centre to commemorate forty years of its Latin American program.
In his speech, the Chancellor highlighted Chile's international positioning, assuring that "we have become a world leader in ocean conservation". In this regard, the national authority mentioned a series of advances, including the organization of the Our Ocean Conference in Valparaiso in 2015; leadership, together with France and Monaco, in signing the "Because the Ocean" declaration, which links ocean conservation with the fight against climate change; and the creation of more marine protected areas than in any other period in the country's history.
The Foreign Minister affirmed that Chile is seen as a country that contributes to peace, thanks to its role as a companion in the dialogue between the Colombian government and the FARC. "We currently have 60 people in the UN verification process and we have been named a guarantor country in the talks between the government and the ELN", he said. He also recalled that after 13 years, "we withdrew our troops from the UN Peace Mission in Haiti, but left a police contingent and focused our efforts on development cooperation". In turn, he mentioned the efforts that our country has made to reach a "political solution in the deep Venezuelan crisis".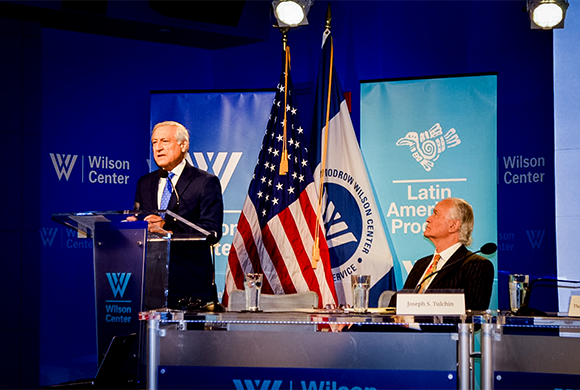 Another milestone pointed out by the Minister is that after "27 years of the restoration of democracy, Chileans abroad will be able to vote in the primary and presidential elections, after a difficult constitutional reform and implementation of the legislation".
On an economic and commercial level, the Chancellor declared that "Chile believes that regional integration and free trade are fundamental to create the right conditions for greater innovation, diversification and integration in value chains, indispensable for the growth of the national economy".
With regard to trade integration, the head of diplomacy stressed that "this policy has boosted trade and allowed an increase in the flow of investment, which has ensured sustained economic growth. As a result, we went from a per capita income of US$5,846 in 1990 to almost US$24,000 in 2016, and poverty has decreased from 39% to 11.7% in the same period", he said.
He also referred to Chile's policy of "convergence in diversity" to bring the Pacific Alliance with Mercosur pragmatically closer to each other and thus "establishing a dialogue to explore common areas, despite the differences between the two integration schemes". This has allowed, the Minister said, for the Pacific Alliance "to become an axis of the regional integration towards the Pacific coast, as well as a bridge to our Atlantic neighbours".
With regard to the relations with our neighbours, the Chancellor highlighted that, in the case of Peru, they have focused on a common future agenda. "We are working together on several fronts, including energy interconnection, migration, security, trade and investment", he said. With respect to Bolivia, with whom we maintain a "silent integration", he said that trade and investment have increased; there is a new Bolivian airline authorized to operate in Chile; Bolivian students, mainly graduates, attend our universities, many of whom receive scholarships with funds from the State of Chile; and Bolivians continue to immigrate and settle in our country", he said.
Muñoz also explained that with Argentina "we have forged an intense relationship, while at the same time we have developed joint regional initiatives. We have agreed on many strategic action points for the upcoming years, including physical connectivity, energy, integration into global value chains and migration. We are also finalizing a trade liberalisation agreement, which will certainly boost bilateral trade and investment. We have even launched a 2030 Strategic Forum, which is defining how both countries could face or imagine a preferred future", he concluded.
The Minister of State made all these statements in the context of his presentation "The Changing Patterns of Regional Integration", which was held as part of the 40th anniversary celebrations of the Wilson Centre's Latin America Program, and the series of conferences with leaders in public policy, the private sector and authorities from all over the region, who discussed the region's most urgent national and international challenges and projections.