Foreign Minister Muñoz heads award ceremony for Chilean cinema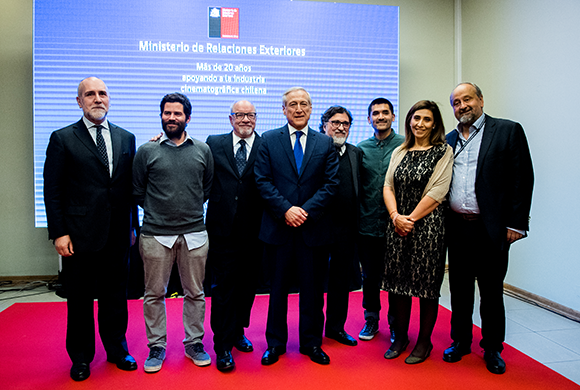 Last night, Foreign Minister Heraldo Muñoz headed an award ceremony for Chilean cinema in the Ministry of Foreign Affairs. The ceremony was organized by the Directorate of Cultural Affairs of the Foreign Ministry (Dirac), ProChile (Directorate of Export Promotion), and the Image of Chile Foundation in the framework of the SANFIC (Santiago´s International Film Festival). The event sought to celebrate the audiovisual sector as well the aforementioned institutions' years of support for and promotion of the film industry.
The activity was attended by Silvio Caiozzi (represented by his daughter Cristina) and Miguel Littín, prominent Chilean filmmakers; Patricio Escala and Gabriel Osorio, representatives of Punkrobot Studio and creators of the "Bear Story" short film (winner of the first Oscar in the history of Chilean cinema); and Paul Schrader, director, screenwriter and American film legend. All of them received an award by Minister Muñoz.
"I want to express my gratitude to the producers, directors, actors and all those who have made Chilean cinema successful not only nationally but also internationally," stated the Secretary of State during the ceremony.
The Minister specified that the Foreign Ministry, through Dirac and ProChile, "has long been involved in the promotion of Chilean cinema — making it easier for Chilean productions to reach festivals, financing projects along with other public entities, and helping Chile be known not only for its wines and its poets, but also for its cinema."
The Foreign Minister stated that the Ministry´s commitment has resulted in various initiatives, including the organization of film series with the embassies and consulates Chile has abroad and the strengthening of the national film talent through the support of project development and films in progress. "All of that has been supporting the internationalization of our cinema", the Secretary of State highlighted.