Foreign Minister Muñoz gives Master Class in Universidad Central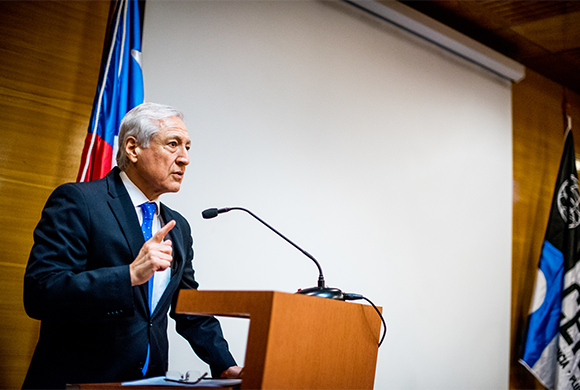 The Minister of Foreign Affairs, Heraldo Muñoz, gave today a Master Class in Universidad Central in regard to "Chile within the new global scenario". In his intervention, the Minister performed an analysis of the global state of affairs, ensuring that the reality today is very different that the one that followed the Cold War. "In recent times, there has been a diffusion of the power that use to be divided between two capacities", he stated.
"We are witnesses of a post Cold War world that is very different to the context we had during the 1990s. What we currently have is an International Community that is facing threats that are very different from the ones of the nuclear holocaust" he expressed. In this sense, he explained that there are other threats, such as terrorism, cyberterrorism, pandemics and humanitarian crises. "We are facing challenges of an economic, social and cultural globalization in a scenario that is very different from the one we knew some decades ago", he pointed out.
Additionally, he noted that technological advances have transformed global economy. This has caused governments and central powers to be constantly defied and losing power to new actors. "Silicon Valley is overshadowing capitals. There are now power holders, mainly innovators", he assured. "Nowadays cheap manpower is no longer fundamental, nor is it the capital one places in an entrepreneurship. It is important, without a doubt, but not nearly as much as innovation and ideas".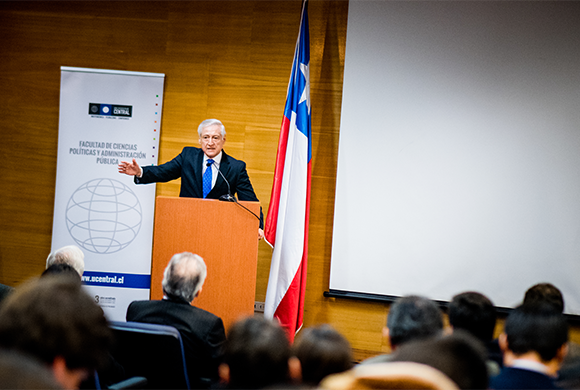 Within this framework, the Minister pointed out that there are a series of challenges for Chile's foreign policy: "First, despite protectionist pressures, we have to strengthen our interactions with the world, while increasing the value of our exports; second, contribute to the global governance, particularly in Chilean most sensitive topics; third, do everything we can to promote a practical regionalism, which we have named "Convergence in Diversity"; and fourth, persevere in our policy of stimulating and defending democracy and human rights".
According to the Secretary of State, regional integration is a key aspect, as Chile speaks to the world through Latin America and the Caribbean. "Even though there are differences, we have to look for that which unites us". In this sense, he noted that the regional commitment is expressed in the great advances made in the relationships with several countries of the region.
He highlighted the recent Binational Cabinet held with Peru in Lima, which was presided by the Leaders of both countries and where there were 18 Chilean and 20 Peruvian ministers; in addition, he also mentioned the 2+2 meeting with the Defence and Foreign Affairs Ministers.
He also emphasised the recent visit of the Argentinian President, Mauricio Macri, where they renewed existing commitments, such as the qualification of the Agua Negra tunnel between Coquimbo and San Juan. He also underscored the developments in the negotiation of a commercial liberalization agreement and the existence of a Binational Commission that projects the partnership of both countries until 2030.
In relation to Bolivia, the Secretary of State mentioned that even though there are two existing lawsuits in The Hague, there is a silent integration. "There is more Chilean investment in Bolivia than ever before; there is an airline that has just been authorised to operate in Chile, connecting Bolivian cities with our country; there are Bolivian immigrants who have made Chile their second home; there are Bolivian students in Chilean universities, lots of them with Governmental Scholarships. Our country continues to cooperate with Bolivia, particularly in the healthcare area. It is an invisible integration that some are reluctant to acknowledge and that need to be promoted", he professed.