Foreign Minister Muñoz emphasized the strength of our relationship with Peru during the closing ceremony of the Binational Cabinet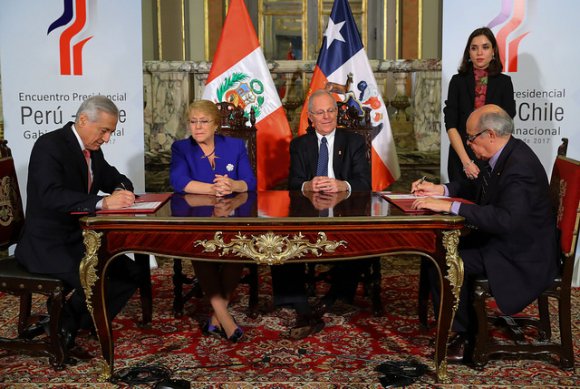 With the Signing Ceremony of the Presidential Declaration and the Plan of Action concluded this Friday in Lima the historic Binational Chile – Peru Cabinet. The initiative was propelled by the Presidents of both countries, Michelle Bachelet and Pedro Pablo Kuczynski, and it assembled both Chilean and Peruvian Ministers, who approached the bilateral agenda and agreed to work together in a number of projects, which were included in the Plan of Action.
In total, there are 119 projects from different areas that were agreed upon, and they comprehend a number of subjects such as climate change, migration and gender, business relations and architecture, amongst others. As a whole, this plan aims at achieving societies that are more inclusive, productive, developed, safer and prepared to face common issues.
During the course of the Plenary Session of both cabinets, Foreign Minister Muñoz asserted that said encounter "is proof of how we actuate our aspirations of having a more integrated region, hope in which we coincide with Peru and of which we have given evidence in the Pacific-Alliance and other regional instances".
Additionally, the Secretary of State asserted that the encounter expressed the "strong willingness of our dignitaries to promote cooperation with our sight set in the future". Furthermore, he informed that there will be a follow-up on the agreements with "the strong purpose of moving forward in the progress between our countries".
For her part, during the closing ceremony the Head of State declared that the encounter was a historical event. "This is the first time that we have a Presidential encounter and a Binational Cabinet. We have worked as a team, in different modalities, and all of this is being translated in very specific plans of action, that will soon see the light and will have very positive effects for our people".
The President also highlighted the projects to strengthen the bilateral relation. "We are mapping a specific way to achieve societies that are more inclusive, productive, developed, safer and ready to face – from now on – future challenges and be able to fulfil the 2030 Agenda for Sustainable Development, to which we have committed to as nations" she pointed out.