Foreign Minister Muñoz arrives at China in President Bachelet's State Visit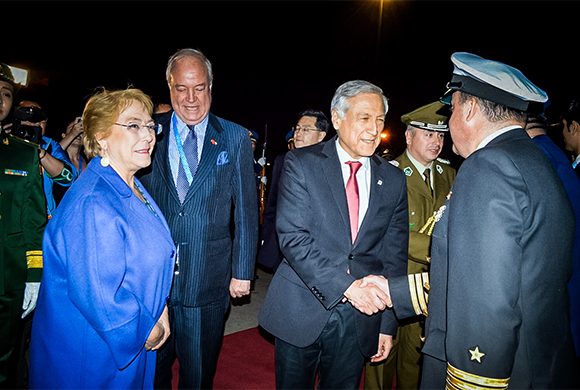 Today Minister of Foreign Affairs, Heraldo Muñoz, arrived in Beijing accompanying President Michelle Bachelet to State visit in China. Tomorrow Chilean Head of State will meet with President Xi Jinping, Prime Minister Li Keqiang, and President of China's National Assembly, Zhang Dejian.
Minister Muñoz explained these meetings will deepen the trade agreement between both countries. "China is Chile's first trade partner. The trades between both countries were valued at 32 billion dollars. We expect the agreement to boost investment and provide a source of employment".
The high level visits between both countries have strengthened the visions and positions of both countries to recent challenges. In 2015, Prime Minister Li Keqiang visited Chile where 18 agreements were signed, and President Xi Jinping visited Chile in November 2016.
On Sunday and Monday, President Bachelet accompanied by Minister Muñoz will participate in the High Level Dialogue "One Belt, One Road", encouraged by President Xi Jinping in 2013. The initiative focuses on connectivity and cooperation, principally between China and Eurasia based on infrastructure, trade, and investments. The Chinese capital will gather leaders from 28 countries and international organizations to this event.
"It will be an opportunity to focus on concrete possibilities for a 21st-century silk road", affirmed Minister Muñoz. He added that "Chile is connecting to the future because China is the perspective of the future and an example of connectivity in the digital era. Therefore, it is important for Chile to participate with the other 27 Heads of State invited".