Foreign Minister Muñoz accompanies President Bachelet in Official Visit to Honduras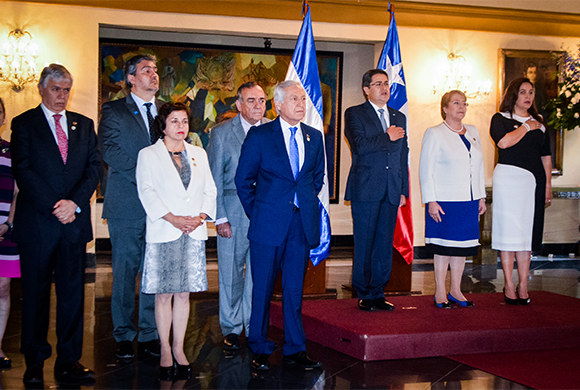 The Minister of Foreign Relations, Heraldo Muñoz, accompanies the President of the Republic, Michelle Bachelet, in the Official Visit that she is making to this country and is set within the context of a tour that includes the Republic of Barbados and Saint Lucia.
At first time in the morning, the authorities took part in a corporate breakfast "Chile-Honduras: Trade and Investment Opportunities", after which they headed towards the Presidential Residence, where the Head of State and the Chancellor engaged in a bilateral meeting. Afterwards, the complete delegation attended an extended meeting.
The Secretary of State also highlighted the commitment with Centre American and, with Honduras, in particular. "This is one of the countries that has the most difficulty with immigration, crime and security. However, it is also a country that has made great improvements and we would like to be a part of that process", pointed out the Minister.
Furthermore, Minister Muñoz assessed the Centre American tour, emphasising the cooperation in matters of justice, agribusiness, health and other areas that stands for the best of Chile in International Cooperation. "This is a historic relation, that is renewed with cooperation and the coincidences in issues of international policy. They take part in the Lima Declaration, for example", he noted.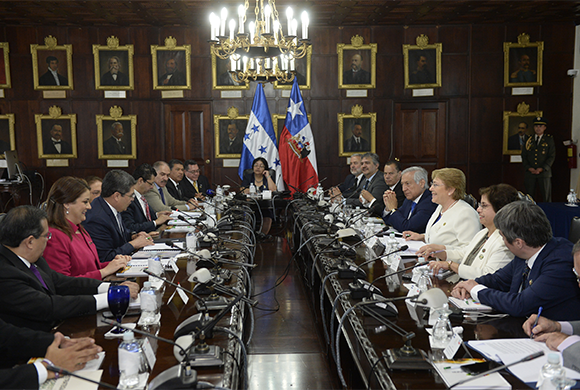 The head of Chilean diplomacy, before leaving, had anticipated the good situation of the relation and the space to grow together. "These are countries that have lower levels of development and that appreciate what Chile has been doing for some time now. One way of contributing to the Centre American and Caribbean countries, that have much less than we do, is to transmit them our experiences, good practices and the financing of projects that aim at sustainable and integral development".
Two agreement were signed during the visit: An Understanding Memorandum regarding the exchange of information and experiences and collaboration in topics related with mining, and an Understanding Agreement on Environmental and Climate Change Issues.
The delegation, which is also composed by the Minister of Agriculture, Carlos Furche; Mining, Aurora Williams; and Environment, Marcelo Mena; the Executive Director of AGCID, Ambassador Juan Pablo Lira; and Chile's Ambassador in Honduras, Jaime Bravo, will be traveling this afternoon to Barbados to continue with the second part of the tour.