Foreign Minister Heraldo Muñoz after meeting with former Foreign Ministers and Parliamentarians: "We will not fall for Mr. Evo Morales game to suspend the Border Committee"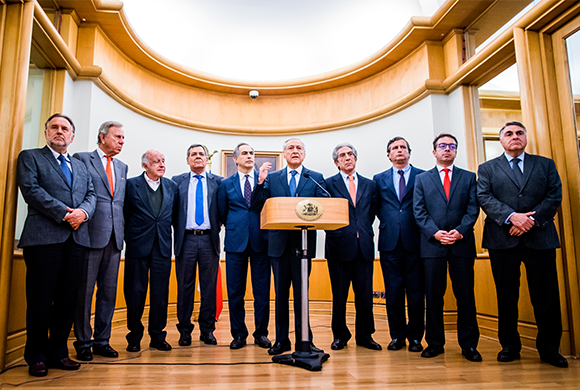 The Minister of Foreign Affairs, Heraldo Muñoz, renewed Chile's commitment to conduct a meeting of the Border and Integration Committee with Bolivia. In addition, he stated that the materialisation of said encounter was proposed by Chile, noting that four Diplomatic Notes were sent on: March 22nd, May 11th, and July 10th and 12th.
Minister Muñoz met with former Foreign Ministers Hernan Felipe Errazuriz, Carlos Figueroa, Mariano Fernandez and the constituents of the Congress Foreign Affairs committees, Senator Francisco Chahuan and Deputies Gabriel Silber, Luis Rocafull, Jorge Tarud and Jorge Sabag.
After the appointment, the Secretary of State declared that Chile "will not fall for Mr. Evo Morales game, in his provocations to suspend the meeting. We will attend the Border Committee in Santa Cruz and we will do everything possible to reach a practical agreement regarding specific subjects".
"It is clear that Mr. Evo Morales does not like the idea of this meeting of the Border Committee taking place. He has tried to thwart it with new insults against our President and with falsities, denying that Chile summoned this meeting of the Border and Integration Committee", asserted Minister Muñoz.
"Mr. Evo Morales, sadly, lies and insults. In the first place, he lies when he asserts that Chile never convened the Borders committee" he insisted.
Alongside with reiterating that "it was Chile who proposed the conduction of this meeting in Santa Cruz, Bolivia", the Foreign Minister said that "Mr. Morales is not comfortable with this dialogue, even if it regards border matters".
The Minister reiterated Chile's disposition to attend the Border and Integration Committee that will take place on July 25 in Santa Cruz, because Chile asked for it. "We are interested in that both the Chilean and the Bolivian people benefit from the practical agreements that emerge from this meeting; that is why we will attend this Borders Committee, because we are interested in answering to the people, because – despite Mr. Evo Morales insults – there is a silent integration underway" he pointed out.
"This will be a technical meeting. It is not of ministerial level, as it has been mistakenly informed by the Bolivian press. And, from our part, as we have duly informed through the ministerial line, the delegation will be headed by the Border and Integration Director", specified the Minister, while adding that "I want to be very clear: what is at The Hague, stays at The Hague".