Foreign Minister accompanies President Michelle Bachelet in Pacific Alliance Summit where the negotiation with four countries to become Partner States was announced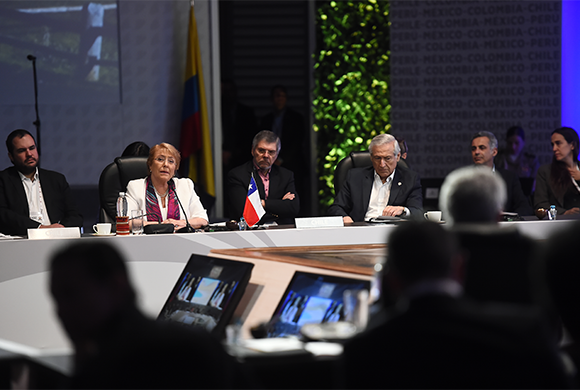 Minister of Foreign Relations, Heraldo Muñoz, accompanied President Michelle Bachelet at the XII Pacific-Alliance Summit which took place in Cali, Colombia.
After the opening of the Summit, where the Head of State emphasized the fact that we are handing over the Presidency Pro Tempore of an alliance that has been "considerably strengthened within recent times", the plenary took place and all countries exposed the progress made by the working parties they had been assigned. In Chile's case, the Foreign Minister briefed the parties about the promotion agencies, digital agenda, education, communicational strategy, gender, external relations group, innovation, mining and fishing.
Afterwards the Minister joined the President in the meeting she had with the Pacific Alliance Business Council.
The announcement of the implementation of the figure of Partner State to the Pacific Alliance and the beginning of negotiations with Australia, Canada, New Zealand and Singapore to obtain said category was the key moment of this summit where Chile officially handed over the Presidency Pro Tempore to Colombia.
A Partner State is that with which "all Parts of the Framework Agreement of the Pacific Alliance celebrate and implement a binding commercial-economic agreement of high standards that contributes to the fulfilment of the objectives of the Framework Agreement of the Pacific Alliance".