Foreign Minister accompanies President Bachelet during the visit of the Vice President of the United States
The Minister of Foreign Affairs, Heraldo Muñoz, accompanied the president of the Republic, Michelle Bachelet, in the meeting the head of state held with the Vice President of the United States, Michael Pence.
In the morning, the Secretary of State headed towards Aviation Group No. 10 of the Air Force to receive the North American Authority, who is conducting a Latin American and Caribbean tour. Afterwards, in Palacio de La Moneda, he took part in a bilateral meeting, occasion in which both authorities expressed their interest to continue strengthening the bilateral relations between both countries. The bilateral agenda focused on cooperation, energy, education, science and technology, and innovation matters, amongst others.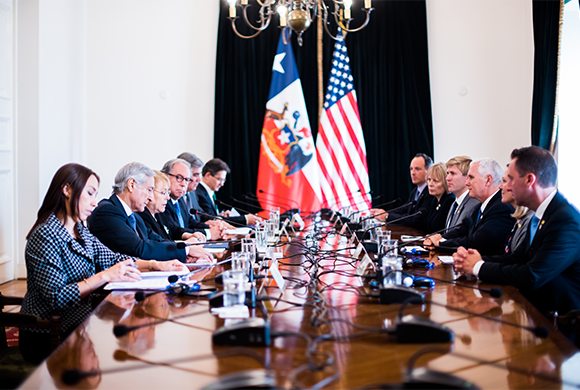 At the end of the encounter, Foreign Minister Muñoz noted that it was "an important meeting between two countries that have a very close relation in the politic, economic, social, cultural and military field. We went over the bilateral relations in particular and the satisfaction of having the United States as our second trade partner and the first investor in our country".
He highlighted that the meeting dealt with regional and global issues. "In some we agree, in some we have differences, as it usually happens when international issues are discussed openly", he affirmed.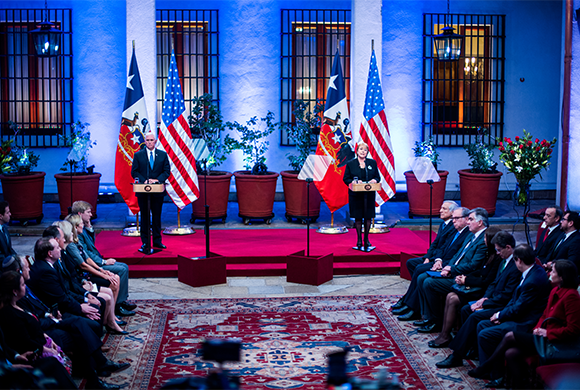 Regarding Venezuela, the Secretary of State reaffirmed that Chile "maintains its position of great concern for the crisis that the country is experiencing and the need to look for a pacific exit, for a believable negotiation for the restoration of a democratic order". He also added that Chile "opposes the threat represented by the use of force or the idea of a military intervention in Venezuela and, in fact, Chile does not accept the use of force in any country, unless it is because of a resolution made by the United Nations Security Council". In the same vein, he pointed out that "we have agreed with other Latin American countries to communicate much more, to improve our coordination, to face the challenges we are facing".
In relation to the request made the United States to have Chile cease diplomatic relations with North Korea, the Foreign Minister emphasised that "we are not currently considering ceasing diplomatic relations with North Korea. We respect the request of the United States, but Chile has links with the country, even though they are distant ones, because we have strictly followed the sanctions enacted by the Security Council. There is no Chilean Ambassador in Pyongyang, no North Korean Ambassador in Chile, just Concurrent Ambassadors, so I would say it is a very distant involvement".