Consular Director General visits Argentina to promote collaborative work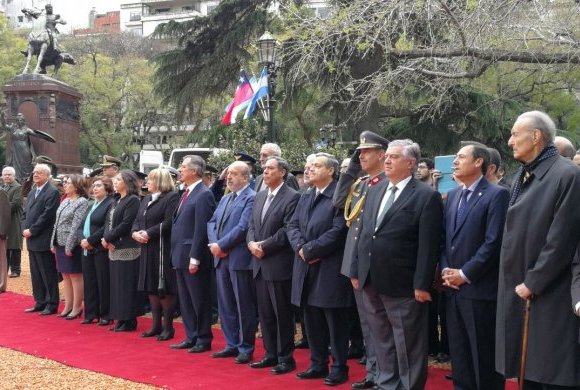 The Director General of Consular Affairs and Immigration, Ambassador Carlos Appelgren, will participate this September 30th in the activity "Buenos Aires celebrates Chile", organized by the Government of the Province of Buenos Aires. During his visit, he made good use of Friday to strengthen consular and migratory work with Argentina.
Together with the Executive Secretary of the Vote Abroad, during the morning, he met with the diplomatic team to coordinate the implementation of the upcoming Presidential election on November 19.
During the afternoon, they visited the polling station, facilitated by the General Direction of Migration of Argentina, to verify that the facilities comply with the Chilean law, to install the five voting tables corresponding to that electoral district. It is important to note that of the 39,000 Chileans eligible to vote, 7,500 live in Argentina and 1,403 in Buenos Aires.
Noting the importance of his visit, at 11:30 a. m. he accompanied the Ambassador of Chile in Argentina, José Antonio Viera Gallo, to participate in the commemoration of the assassination of General Carlos Prats and his wife Sofia Curthbert, 43 years ago.
At the ceremony, which was attended by two of the daughters of the couple, a plaque was unveiled in their honour and one of the main halls of the diplomatic mission was named "Carlos Prats and Sofia Cuthbert Hall".
During the day, the Consular Director General also met with his Argentinean counterpart, Minister Luis María Sobrón, to discuss migration issues pertaining both countries and reflecting the modernization of consular services for the benefit of their nationals.
In this context, a joint agenda was agreed upon to coordinate the visit of Pope Francis to Chile, which will take place between January 15 and 18 of 2018, and the possible influx of Argentine visitors.
Tomorrow at noon begins "Buenos Aires Celebrates Chile" and the Consular General Direction, together with the diplomatic mission in Argentina, will participate with a stand to show the different programs in benefits of Chileans and foreigners, such as the Apostille, Chile Atiende and Chile Va Contigo, among others.