Chilean cinema wins first Oscar with "Bear Story"
"Bear Story," the film created by Gabriel Osorio and produced by Punkrobot Studio, was chosen as Best Animated Short Film at the 2016 Academy Awards.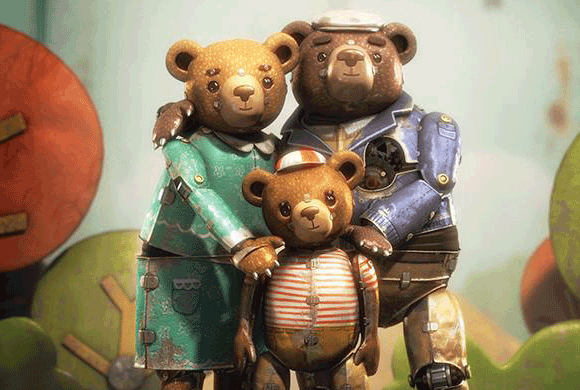 With great reviews from critics worldwide and more than 50 awards at various festivals, "Bear Story" arrived yesterday to the Academy Awards in Hollywood. Its director, Gabriel Osorio, accompanied by the producing team from Punkrobot Studio, participated in several activities to promote this film, which recounts the circumstances of a kidnapped bear, separated from his family and taken to work in a circus.
The long awaited award for Best Animated Short Film went to "Bear Story," becoming the first Chilean film to receive an Oscar. Gabriel Osorio recalled that the short film's story has a very strong historical background, as it is inspired by his grandfather's exile during the dictatorship.
In their acceptance speech, the creators thanked the judges of the Academy in English, as well as those who believed in this film from its conception. Finally, the producer, Patricio Escala, summed up the speech with, "Viva Chile!"
"Bear Story" was supported by various types of institutional support, including DIRAC, the Foreign Ministry's Department of Cultural Affairs. The film premiered at the Annecy Festival in June 2014, and subsequently received awards at the Animamundi Festival in Brazil for Best Children's Short Film and Best Art Direction; at the Alucine Latin Festival Film & Media Arts of Canada, receiving an award for Best Animation; at the Cleveland International Festival, it was crowned Best Animated Short Film; and just before the Oscars, "Bear Story" won the public vote and the jury at the Short List Film Festival, organized by the magazine, The Wrap.
As for the distribution of the film in Chile, the Punkrobot Studio production company reached an agreement with Cinecolor so that "Bear Story" could be shown in national cinemas as a prelude to the Disney animated film, "Zootopia." Beginning in mid-February, the Oscar-winning Chilean animated short "Bear Story" will be playing at major theatres across the country.