Chile and the United States hold political consultations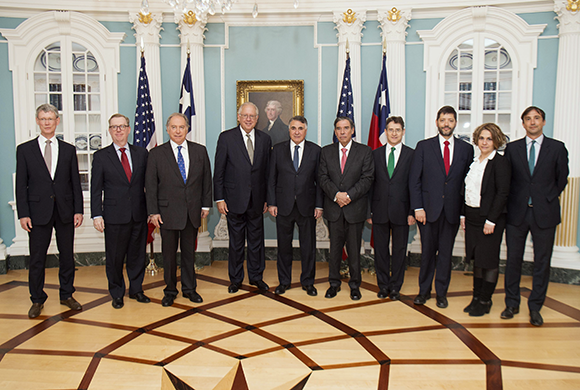 The Undersecretary of Foreign Affairs, Edgardo Riveros, along with U. S. Assistant Secretary of State for Political Affairs, Thomas Shannon, led the Fourth Meeting of the High-Level Bilateral Political Dialogue Mechanism with the United States.
The meeting, which was held in State Department offices, addressed multiple bilateral, regional and multilateral issues. Both delegations highlighted the constant dynamism in economic and trade matters since the implementation of the free trade agreement in 2004. They also highlighted Chile as an attractive destination for U. S. investors. In that sense, Undersecretary Riveros pointed out that U. S. investment in Chile is "appreciated and welcomed".
It should be noted that the United States is Chile's second largest trading partner. During the January-September 2017 period, commercial exchange has reached US$ 15,985 million, representing 14% more than the same period last year. Exports reached US$ 7,477 million, increasing 18% compared to the same period in 2016. On the other hand, imports reached US$8.508 billion, which means a positive variation of 11%.
With regard to intellectual property, Chile's progress in this area was highlighted, which led it to have a strong institutional framework in this area, achieving, since the coming into force of the FTA, a modern and solid system.
In energy, Chile emphasized the development that our country has had, especially in the diversification of the energy matrix, remembering that today it has 20% of alternative sources, hoping to reach 50% in 2050.
The visa waiver program was also discussed at this meeting, with a very good evaluation of the program, with nearly 400,000 Chileans who have made use of the program, with a rejection rate of less than 1%. Chile's progress in meeting all the commitments involved in participating in this program was also highlighted.
Among other subjects discussed, the Antarctic and maritime issues, cooperation in peacekeeping operations and the institutional framework for human rights stand out. In the area of cooperation, Chile highlighted the United States as a natural, reliable and strategic partner in the area of triangular cooperation, where successful projects have been promoted, giving priority to Central America.