Chile and Germany begin negotiations to reach an Energy Partnership Agreement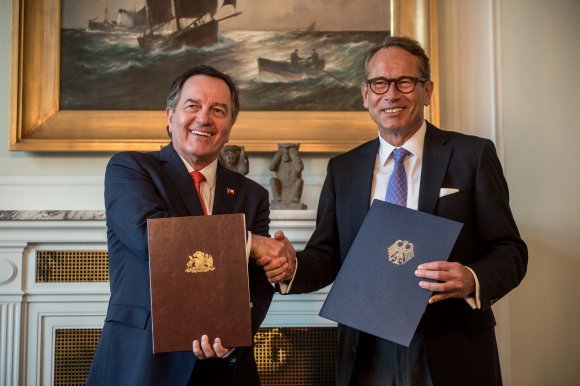 The Minister of Foreign Affairs, Roberto Ampuero, today signed a declaration of intent on energy cooperation with the State Secretary of the Federal Ministry of Economy and Energy of Germany, Ulrich Nussbaum, within the framework of the visit of the President of the Republic, Sebastián Piñera, to Hamburg.
This declaration announces the beginning of negotiations for the materialization of an Energy Partnership between Chile and Germany during 2019.
"This is a governmental dialogue mechanism through which the Ministry of Energy of Chile and the Federal Ministry of Economy and Energy of Germany will exchange experiences and knowledge about the implementation and future challenges around the energy transformation agenda of each country," said Chancellor Ampuero after the signing. The Secretary of State explained that matters such as "the incorporation of renewable energy sources, energy efficiency, clean fuels, efficiency and expansion of energy networks" will be considered.
The Chile-Germany Energy Association will consider holding annual meetings in both countries, as well as setting up specialized working groups.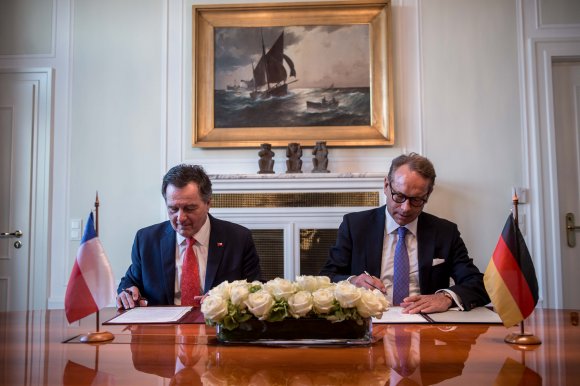 In addition, Minister Ampuero was present at the signing by the governments of Chile and Germany of a declaration of intent on cooperation in advanced training of Chilean business executives through the Fit for Partnership with Germany program. This initiative offers specific training to executives from Asia, Eastern Europe, North Africa and Latin America that enables them to initiate successful business relationships and economic cooperation with German partners.
The program, of which Chile has been a member since 2017, seeks to improve the cooperation capacity of foreign companies through the transfer of management skills; the opening of new markets through the facilitation of business contacts, especially with SMEs; and the establishment and development of lasting bilateral economic relations between Germany and the participating countries through management training in Germany for representatives of foreign companies.