Chile and Argentina sign a trade agreement: "There are many countries in our region that talk about integration, we are achieving integration"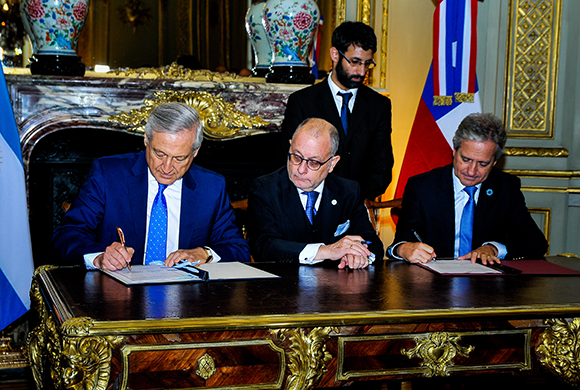 At the San Martin Palace in Buenos Aires, Chile's Minister of Foreign Affairs, Heraldo Muñoz, and Argentina's Minister of Foreign Affairs and Worship, Jorge Faurie, signed the new trade agreement between the two countries, whose main objective is to continue advancing bilateral integration, stimulating investment and strengthening trade.
"What we have signed today is a historic milestone, we have made substantial, real, not rhetorical progress in bilateral integration and we have done so in different areas. It is true that we already have liberalized goods, but we have eliminated technical, sanitary and phytosanitary barriers, going beyond WTO rules", said Foreign Minister Muñoz.
The new agreement is the extension of the Economic Complementarity Agreement (ECA) signed in 1996 and incorporates new issues on the international agenda and deepens the instruments governing investment, services, public procurement, telecommunications and electronic commerce. In addition to environmental, labour, SME, cooperation and gender competition policy.
"There are many countries in our region that talk about integration, we are achieving integration. We are building tunnels, the Salta-Antofagasta trains are working, we are seeing how we make joint marine protected areas in the southern sea, we are seeing how we create joint national parks. We are thinking about the bilateral relationship between Chile and Argentina by 2030. In other words, we are thinking about the future and building the future".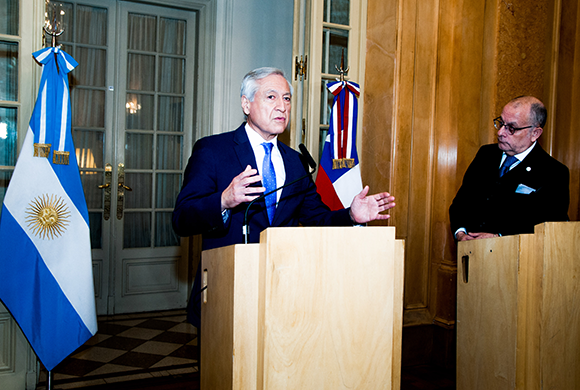 One of the most important points is related to telecommunications, since one year after the signing of the agreement, roaming between Chile and Argentina will be eliminated. "When in a year roaming is available at the same cost and of the same quality in both countries, I believe that this will be noticeable in a palpable way, but it will be noticed even earlier, when we start to create more, better quality jobs through the different aspects that are addressed in this agreement", added Muñoz.
According to the Chancellor, one of the characteristics of this FTA with Argentina is that it is a state-of-the-art agreement, especially highlighting the gender chapter since "it is important because if women participate, enterprising women, in trade agreements and are given support, access to credit, training to export to intentional markets, that will benefit us all".
The signing of this agreement is of the utmost importance since Argentina is our second largest trading partner in the region and sixth in the world. Between January and August 2017, our exports increased by 33% and Argentine exports to Chile grew by 22%.