Chancellor Muñoz meets with UNDP Administrator to discuss new realities in middle-income countries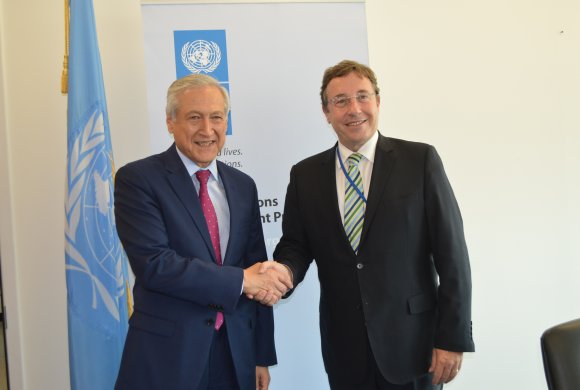 Foreign Minister Heraldo Muñoz met with Achim Steiner, Administrator of the United Nations Development Programme (UNDP), who took office in June this year.
At the meeting, the authorities discussed the new Strategic Plan of this organization promoted by Steiner; Chile's cooperation with the countries of Central America and the Caribbean through the Hunger Fund; and poverty and the concern expressed by our country regarding the imminent "graduation" as recipients of international donations when reaching the maximum per capita income considered by the Development Assistance Committee (DAC) that regulates government cooperation.
One of the main points addressed by Chancellor Muñoz is the importance of recognizing the specific needs of middle-income countries, which comprise the majority of Latin American and Caribbean countries, and incorporating instruments capable of tackling poverty in all its dimensions, while taking into account that the greatest number of poor people are currently in these countries. This point was shared by the UNDP Administrator, who has incorporated this new dimension into the new UNDP Strategic Plan.
In the same vein, the Secretary of State shared his concern about the DAC decision that groups donor countries together. In 2013 this committee determined that Chile, Uruguay and Antigua and Barbuda, Upper Middle Income countries, would graduate in October of this year if they exceeded the income per capita of US$ 12,700 as set by the World Bank.
In 2016, the Ministers of Foreign Affairs of Chile, Uruguay and Antigua and Barbuda sent a letter to the President of the DAC, requesting the creation of a Working Group within the Committee to review the graduation criterion and propose a moratorium for the countries currently affected, until new criteria were defined. There is no final decision in this regard yet.
This graduation criterion based on the countries' income per capita has been strongly questioned as insufficient because it does not account for the multidimensional nature of development, in which both authorities agreed upon.