Chancellor Muñoz in the closing of IMPAC 4: "We are going to have more marine protected areas than territory on the continent"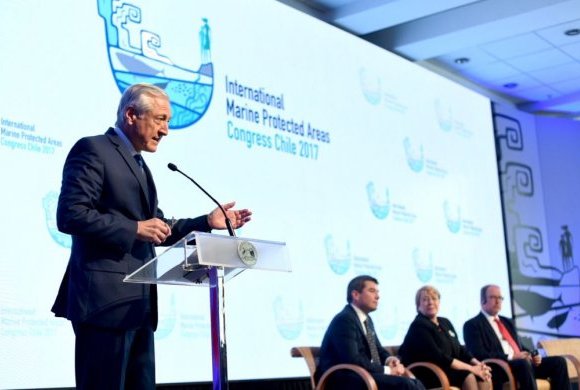 The Minister of Foreign Affairs, Heraldo Muñoz, participated today in the High-Level Segment that closed the IV International Congress of Marine Protected Areas (IMPAC 4). The closing event was held at the Sheraton Hotel in Viña del Mar and was attended by the President of the Republic, Michelle Bachelet; the Minister of Environment, Marcelo Mena; and by Prince Albert of Monaco, in addition to Minister Muñoz.
In his speech, the Secretary of State highlighted the recent decision of the community of Rapa Nui, which on September 3rd last year, in a democratic exercise that is part of a consultation within the framework of Convention 169 of the World Labour Organization (ILO), approved the creation of a Marine Coastal Multiple Use Protected Area (MCPA) that covers the entire Exclusive Economic Zone of the marine ecoregion of Easter Island.
"Cooperation between States is essential to achieving these goals of Marine Protected Areas. In this context, the International Congress of Marine Protected Areas (IMPAC 4) has generated a space for dialogue", affirmed the Minister, emphasizing that several actors, including representatives of the academic world, scientists, international organizations, representatives of the State and civil society "have had the opportunity to share ideas and approaches that will create solid precedents to establishing protected zones that, ultimately, benefit the entire planet and not only the countries involved".
Subsequently, in statements to the press, the Chancellor reiterated his satisfaction with the Government's commitments in this area. "The President of the Republic, the Chancellery and the Ministry of Environment have fulfilled the promises they made almost two years ago, when the Chancellery organized the "Our Ocean" event in Viña del Mar and we said that we were going to protect our ocean. Today, we have an internationally recognized achievement", the Chancellor said.
"We are going to have 1.6 million Marine Protected Areas, which are among the largest in the world. That's why Chile is recognized. We're going to have more Marine Protected Areas than territory on the continent. I believe that this will, not only help these generations, but also future generations. We are happy that the Foreign Ministry has played a role", he concluded.