Chancellor Muñoz expresses the Chilean government's condolences for Las Vegas attack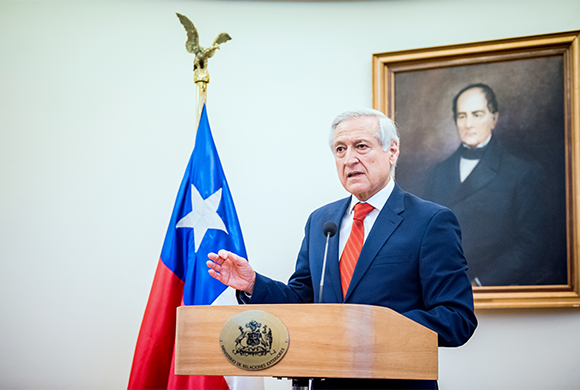 Foreign Minister Heraldo Muñoz, speaking on behalf of the Chilean Government today, expressed his sorrow at the attack that killed at least 50 people and injured more than 400 in Las Vegas, Nevada. "This is the largest attack in the United States since the September 11 attacks, and we express our condolences to the families of the victims, as well as to the U.S. Government", he said.
"It is a sad moment for a country with which we have very deep bonds", added the Chancellor, along with confirming that so far there are no compatriots amongst the victims. "We have contacted our Consulate in Los Angeles, the Honorary Consulate in Las Vegas and the U.S. Department of State and the information we have so far is that there would not be Chileans affected", he said.
The Secretary of State also reported that Chile has continued to monitor countries affected by natural disasters, particularly in the Caribbean. "We have offered help, which will be sent very soon. In some cases, we are going to participate in a donor conference - organized by Caricom - to contribute to the reconstruction of the Caribbean island states", he said. He also pointed out that "we have been worried about Mexico, cooperating in different ways, sending experts who have been requested by the Mexican government. We know about the strength of Mexico and that they will go ahead with the reconstruction of their country, a country that Chile loves very much".
When asked about the situation of the referendum in Catalonia, the Minister deeply regretted the "violence and the hundreds of wounded", adding that "we are respectful of the unity of Spain and its Constitution. We hope that the existing differences in this sensitive matter will be resolved through negotiation".
In addition, the Chancellor noted that on 5 and 6 of October he will participate in the Conference Our Ocean, which will be held this year in Malta. "This is an extraordinarily important meeting for Chile, where we will report on the commitments we have made for the conservation of the oceans", he said, pointing out that he will report on the country's progress in marine protected areas.