Chancellor Muñoz after the first ballot vote abroad: "We are going to leave a legacy of a better democracy"
New Zealand's capital, Wellington, was once again the focus of the presidential election. Due to the change of time zone, it was where the first table from outside was constituted in this second round. This milestone closes an historic process in which 39,137 citizens can exercise their right to vote from their countries of residence.
In this context, from the center of operations installed in the O' Higgins Hall of the Ministry of Foreign Affairs, the Minister of Foreign Affairs, Heraldo Muñoz, accompanied by the Director General of Consular Affairs and Immigration (Digeconsu), Ambassador Carlos Appelgren, contacted the Consul in that city, Marco Martinez.
"With this we are going to take a very important step forward, we are going to leave a legacy of a better democracy thanks to the work of the Chancellery, in conjunction with Servel," said Chancellor Muñoz, while recalling that, in the first round, almost 60% of the voters abroad voted, compared to 46.6% in our country. This reflects the long aspiration that Chileans have had to exercise a citizens' right, regardless of where they lived", he said.
For the Consul, this was undoubtedly a historic milestone for our democracy, in which for the first time Chileans living abroad were able to participate in a presidential election. "It is something that fills us with pride as officials of the Ministry of Foreign Affairs, both for the success of the process and for the work done by the General Consular Directorate and the network of 121 constituencies that have been set up around the world for this purpose".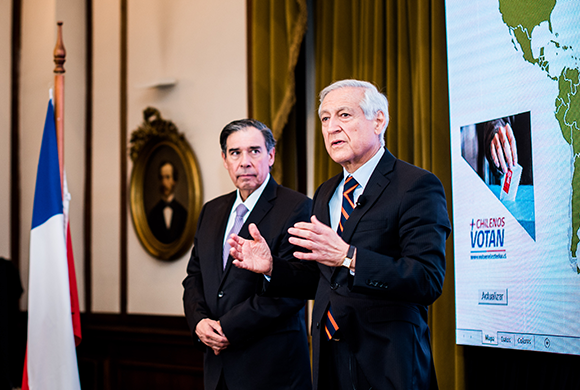 The first Chilean to vote in this ballot was Giovanna Paine, who has been in New Zealand for over 40 years and travelled 141 kilometres from her hometown of Palmerston North to Wellington to exercise her right to vote.
On this occasion, the Ministry of Foreign Affairs had less than a month to execute the vote and send all the material abroad. For the same reason, Ambassador Appelgren highlighted that "the implementation of the processes abroad have been successful thanks to the impeccable work of our consuls, our voting unit abroad and the officials of this Ministry of Foreign Affairs, who have exhaustively monitored each of the areas that concern us and have maintained close coordination with the Electoral Service".
It should be noted that 23,308 people voted in the first round of presidential elections, which represents almost 60% of the foreign voters. On that occasion, the five countries with the highest percentage of participation were Argentina, the United States, Canada, Spain and Australia. The five cities were Buenos Aires, Miami, Barcelona, Paris and Madrid.