Chancellery participates in International Exhibition of Digital Development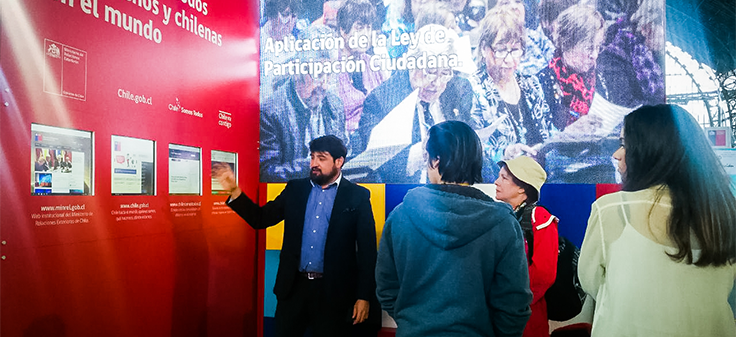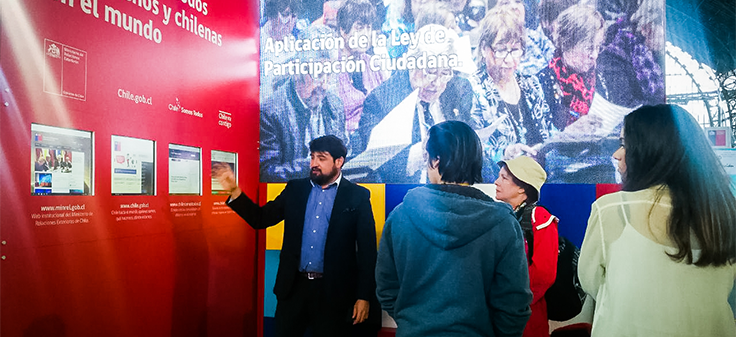 In order to promote the technological programs implemented to facilitate the attendance of Chileans and foreigners, the General Direction of Consular Affairs and Immigration, of the Ministry of Foreign Affairs, was invited to participate again in the second edition of the International Exhibition of Digital Development 2017.
The initiative, organized by Práxedis Eventos y Gobierno Digital del Ministerio Secretaria General de la Presidencia, takes place today and tomorrow at the Estación Mapocho Cultural Center and it is the largest meeting point for government entities, municipalities, citizens and the main companies developing digital technologies and Smart Cities in Chile and Latin America.
"As Foreign Ministry we are very proud to attend this event, because our work is the reflection of a country that modernizes its public services for the benefit of its citizens. We meet the growing demands of consular service users in a timely and efficient manner and the Exhibition is a great opportunity for more people to know what we are doing", says the Director General of Consular and Immigration Affairs, Ambassador Carlos Appelgren Balbontín.
The Ambassador will also participate on Thursday, October 19, in a seminar held by the same organizers and will give a lecture on the applications of digital technology put at the service of people, where he will detail the programs offered by the Ministry of Foreign Affairs of Chile to Chileans and foreigners, both in Chile and abroad.
One of them is the implementation of the Chilean Apostille, which allows documents to be legalized so that they can be recognized both in Chile and abroad. It is worth mentioning that of the 113 countries in the world that have Apostille, we are one of the eight countries in the world that electronically apostille. During the first year of implementation, more than 300,000 apostilles have been issued, which meant a reduction of one million procedures.
Additionally, the portal www.chilevacontigo.gob.cl, which is an important technological support that allows us to cover massive events and manage emergencies, such as football World Cup, Copa América, America Bicentennial, World Youth Meeting, Techo Chile in Paraguay, Nepal earthquake in 2015, the attacks in Paris that same year and in Brussels during 2016, the Russian Confederations Cup held this year, Earthquake in Mexico, Hurricanes in the United States and the Caribbean, among others.
Those interested in attending can visit https://www.eidd.cl/ and learn more about the digital meeting.