Ambassador Rolando Drago assumes presidency of the 30th Assembly of the International Maritime Organization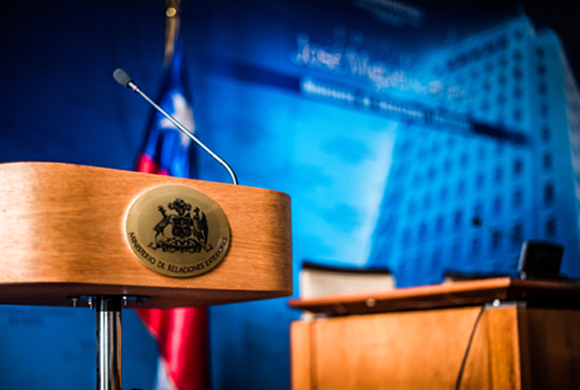 The Ambassador of Chile to the United Kingdom Rolando Drago assumed the presidency of the 30th session of the Assembly of the International Maritime Organization (IMO). The decision was taken by acclamation of IMO members following consultations with the Secretary-General of the organization. In addition to leading the Assembly's deliberations this week in London, the President retains that status until the next session of the Assembly in two more years, when he completes his term. Along with being Chile's Ambassador to the United Kingdom, Drago has been Chile's Permanent Representative to the IMO since mid-2014.
Chile actively participates in the work of IMO through a Permanent Mission headed by Ambassador Drago and composed of two officers of the National Navy, attached to the Directorate General of Maritime Territory and Merchant Marine, the technical body responsible in our country. They are also supported by the Embassy in London.
Among the topics of greatest interest to Chile are the protection of the oceans and marine life, including Antarctica; the reduction of greenhouse gas emissions; and the safety of ships and their crews, emphasizing the necessary training of the people on board, including those who operate and work in the special conditions of the frozen continent.
Chile has also defended its interests in the IMO, particularly against proposals that could become barriers to international trade. Our country also attaches particular importance to technical cooperation as an instrument enabling all IMO Members to fulfil their obligations and take advantage of their rights. In that regard, through various instruments, the Chilean maritime authority has trained thousands of government officials in our region, Africa and the Pacific, on issues such as environmental protection and search and rescue.
IMO is a specialized agency of the United Nations responsible for establishing standards for the safety of persons and ships in international maritime transport and the protection of the marine environment and its resources. Its main function is to establish a fair and effective regulatory framework for the maritime transport sector, to be adopted and implemented at the international level. IMO is based in London.
The Assembly is the main governing body of the Organization. It is composed of all Member States and meets once every two years in regular sessional sessions, although it may also meet in extraordinary sessional sessions if necessary. The Assembly is responsible for approving the programme of work, voting on the budget and establishing the financial arrangements of the Organization. The Assembly also elects the Council.
The Council is composed of 40 members in three categories, elected every two years. Chile has been a member of the Council in Category C for more than a decade and has nominated for re-election. The vote will take place on Friday 1 December.