AGCI promotes International Cooperation Table for the 2030 Agenda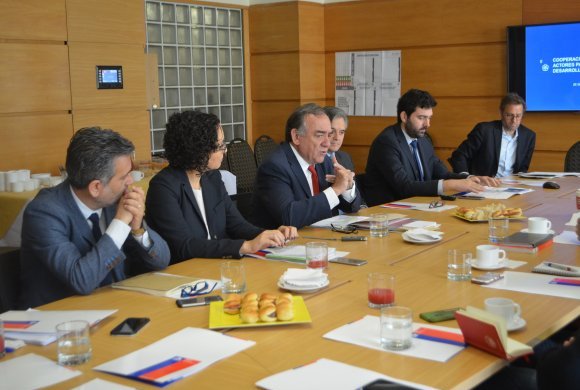 The Chilean Agency for International Cooperation (AGCI), together with the América Solidaria Foundation, the Council of Rectors of Chilean Universities (CRUCH), and the Business Action Organization, created a dialogue and co-construction table to identify proposals that enhance multi-stakeholder collaboration for sustainable development. Cooperation in this area is a crucial component of international relations.
On this occasion, Ambassador Juan Pablo Lira, AGCI's Executive Director, together with Benito Baranda, President of América Solidaria, and some twenty representatives from the public, private, academic and civil society sectors, agreed on proposals to promote education for development, identify opportunities and obstacles for collaboration and the need to design multi-stakeholder cooperation instruments.
Ambassador Lira noted that "we appreciate this opportunity to sit down and talk with the various sectors to take forward this multi-stakeholder table for cooperation. We have to worry about certain aspects of our country that are still pending. That's why we have to make alliances and work together".
It is worth mentioning that the Agenda for Sustainable Development (Agenda 2030) was adopted by 193 Heads of State of all United Nations member countries in September 2015 and aims to achieve sustainable development in the economic, social and environmental fields over the next thirteen years. This universal Agenda recognises that neither the State nor the market alone can provide a response to the many global challenges of persistent poverty, low economic growth, growing inequality and rapid environmental degradation.
There are already some examples of joint Chilean actions abroad, such as the re-construction of the "Escuela República de Chile" in Port-au-Prince, Haiti; the creation of university degrees in Phonoaudology and Occupational Therapy at the Universidad Mayor de San Andrés, La Paz, Bolivia; and training in phytosanitary certification in Central American countries and agricultural insurance in Ecuador. These are examples that we intend to continue expanding.